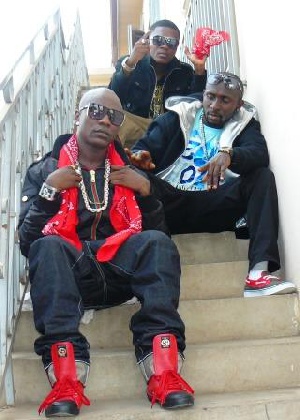 Wed, 9 Mar 2011 Source: NewsOne
All is not well between the camp of Ga rapper Tinny and that of new entrant group, Westside.
Westside, made up of three members, is threatening Tinny's Kankpe Records over alleged failed promises to help them make it in the industry in exchange of some unnamed favours.

The group said Tinny and his Kankpe records failed to honour their promises, hence they left but they would not shut up.

According to Tinny's Manager, Richard Agyemang Berko, Kankpe Records as a recording company, does not recognize Westside as its artistes.

"They were not signed with Kankpe record, so I wonder what they are talking about. They were never part of Kankpe. I only know them as Tinny's friends," he said.

Obviously, Kankpe records is not perturbed about their claims as Richard added, "We don't have any problem with them. I don't know what they are talking about."
Manager of Westside, Caleb Giovani told NEWS-ONE, "Westside left Kankpe records because of unfair treatments and failed expectations. Things were not going on well with them the way they anticipated so had to quit like any good rap soldier. Basically it had to do with the false hopes they get from him and his constant promise to them that he was going to make them hit. According to them, they always sit backstage when Tinny is performing and sometimes count their lucky stars in desperation."

West Side represents a unit of dynamic young artistes based in the western side of Accra, precisely West Legon.

It's headed by three rappers: Williams Adu (Shanito), Solomon Adolf (Gasto) and Elijah Anaji (Don Elijah).

"The group has been in existence for half a decade now and formerly under Kankpe records by ace hiplifer Tinny, Westside is set to make a difference in Hip-life," said Giovani.

The group is out with a single hit, 'Show your body', and it is currently enjoying massive airplay. They've worked with artistes such as Echo, Tinny, Iwan and Nii in the past and are promising to take Ghana by storm this year. They are currently working on another song, 'Time no dey', before they launch their album in March.
Source: NewsOne