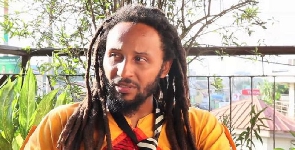 Ghanaian musician, Wanlov the Kubolor has suggested that 'Sakawa boys' often associated with cybercrime, might be the unsung heroes of Ghana. He contends that these individuals, despite their controversial activities, may actually be contributing to their families and communities, unlike some politicians.
Speaking to Nkonkonsa TV, Wanlov acknowledges that Sakawa boys are typically considered criminals. However, he points out that they acquire resources from the West and reinvest them into their immediate families and communities.

"For me, the most sensible people in Ghana are the Sakawa boys. They are the only people who are helping Ghana or their family or somebody. Yes, they are seen as criminals but they are taking resources that have been generated in the west and they are using it on themselves, their immediate families and their community," he said.

This, according to him, is in stark contrast to politicians who borrow money from international institutions like the IMF, often with no intention of repayment, and use it for personal gain at the expense of Ghanaian citizens.

Wanlov goes on to argue that politicians who engage in such practices are essentially stealing from the people of Ghana, as these debts eventually fall on the shoulders of ordinary citizens, with interest, making it significantly burdensome.

"But what is more criminal than a politician going to IMF to borrow money that they know they will never pay? They don't have to pay and they will use it for their own personal things that Ghanaians will come and pay for one day. They are not stealing from the west, they are stealing from Ghanaians, because the money that the west will come and take from Ghanaians who owe IMF will be five times more than what these ministers are borrowing.
"So these ministers are stealing from us by borrowing? Who in Ghana are the Sakawa boys stealing from? They're not stealing from anybody in Ghana. So the real criminals are these politicians," he argued.

ID/DAG

Ghana's leading digital news platform, GhanaWeb, in conjunction with the Korle-Bu Teaching Hospital, is embarking on an aggressive campaign which is geared towards ensuring that parliament passes comprehensive legislation to guide organ harvesting, organ donation, and organ transplantation in the country.

Watch the latest episode of Nkommo Wo Ho on GhanaWeb TV below:




Watch the launch of the 2023 GhanaWeb Excellence Awards on GhanaWeb TV below:





Click here to start the nomination process for the 2023 GhanaWeb Excellence Awards