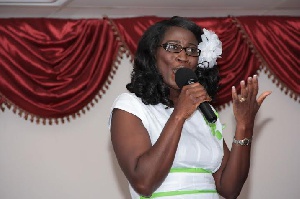 Ghana in 2014 can boast of many talents in the Gospel music industry. Outside Ghana in the United States, there are many equally talented that the world needs to know. One of such is ; Precious Hannah whose talent has been spotted by Media Mogul; Charles N. Ntiamoah-Mensah(Mr. CNN, CEO/Media Mogul of 3G Media).

One will mistake her voice for gospel music legend; Stella Dugan as a compliment. Precious is lyrically trained and a gifted singer who is about to make a big contribution in the Gospel music industry.


Precious Hannah Ewoo, a native of Ghana, West Africa is based in Maryland, USA. A second of 5 children by Mrs. Elizabeth Yankey Ewoo and Dr. /Pastor Andrew L. Ewoo, a Minister of the Gospel who is the current Speaker for the "Encounter with Truth" television program on GTV in Ghana.


Precious is a Nurse by Profession and has been practicing for several years and also holds a Masters of Science degree in Nursing (MSN). Furthermore, she works in a Hospital as a Nurse Educator as well as teaching at a local Adventist University School of Nursing.


Music is her passion and after a long day's work is where she finds peace and rest. It is what keeps the music star going. She is an experienced singer whose journey to singing started at a young age. She has recorded with several groups and choirs in Ghana and USA. The confidence she has built, coupled with her style of singing blossomed to a greater level which offered her the opportunity to support the Gospel Ministry and minister to others.

A recording engineer that Hannah worked with in the past once said to her, "With all this interest you have in music and your singing abilities, you should become a solo artist and have your own recording music ministry." A young friend from Ghana, who saw her perform once, also sent her this comment: "I admire the way you put yourself into a song when you are singing."


Precious Hannah has a current album titled "Onyame Adom." A contemporary piece which uplifted many spirits and boosted interest in that type music.


The Psalmist in Psalm 100 vs.1-3 states that: "We must shout for joy to the Lord, and worship the LORD with gladness and come before Him with joyful songs." Hannah sings because she finds happiness in the Lord and is thankful for Life, Health and Loving Family. She humbly prays that her music ministry will encourage and uplift many broken hearts, and bring joy to those who are saddened by the troubles of this world and help them draw closer to God.


The music industry is very large and can be overwhelming at times but Hannah's goal is to reach out to those in pain, poor, prisoners, young and old. It is a goal to help them embrace the Love of our Lord Jesus Christ who came and died for all.