Entertainment Sun, 31 Mar 2019
West Hills Mall's popular children's reading lounge, the Pom-pom Library, received a big boost from Ghana International School (GIS) when the school donated a consignment of assorted reading books to support the mall's crusade for encouraging the habit of reading among children in the Accra West area.
Ghana International School's Junior Section, on Thursday, handed over 400 new and slightly used reading books to the management of the mall after a month's book donation drive which was championed by Ohemaa Kyei-Mensah, a Class 6 Baobab pupil at the school and coordinated by school authorities.
West Hills Mall's Pom-Pom Library, a 150 square metre large reading facility, was commissioned on July 23, 2018 to serve children in the shopping centre's catchment area and promote the habit of reading, particularly among underprivileged first-cycle pupils living in the Weija area.
Mall officials say the ultimate objective for setting up the library is to arrest dwindling interest and proficiency in reading among children in the area and therefore occasionally rolls out special reading programmes and activities designed to make reading attractive and pleasurable to children. With a capacity to house fifty children at a go, the facility's biggest challenge however, has been how to continually stock its shelves with new and interesting reading material to sustain interest among its young patrons.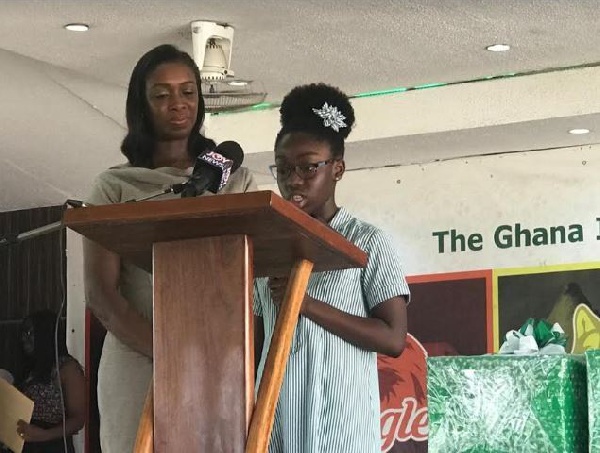 Eleven-year-old Ohemaa Kyei-Mensah, an Ambassador of the Pom-pom Library and its Reading Club, who was herself a resident of Weija, championed the mall's drive for book donations, launched last October, making her school the first point of call.
Nadia Bruce-Muller, Vice Principal of the Junior School of GIS, told reporters it took the school barely a month to collect some 600 new and slightly used books, 200 of which was donated to another beneficiary – the Focos Orthopaedic Hospital – Kofi Annan Learning Centre.
"Here at GIS one of our strategic goals has been to make an impact on children and their communities through service. Every year we set ourselves a target and work towards it. In the past year we launched a Boot Drive to benefit less fortunate children who played football in their communities but who could not afford football boots.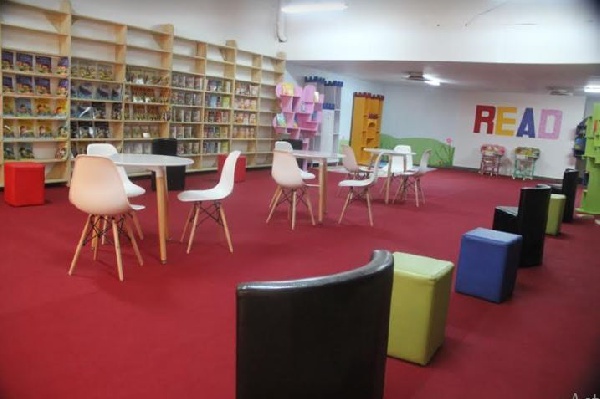 "This year we decided to do a Book Drive and it was a delight to us when one of our own, Ohemaa, came over to share with us something she was doing outside the school. I was delighted, and decided that we would partner with her in the book drive," the Vice Principal said at a presentation ceremony at the GIS Assembly Hall.
Ohemaa Kyei-Mensah said the authorities at West Hills Mall decided to set up the library because there are no public libraries in the Weija neighbourhood where the mall is located and most children in that area cannot afford to buy books.
"The Pom-Pom library is meant to motivate children of all ages, to read about interesting things in the world and about unfamiliar things around them. However, to make that possible, we needed your help by donating these books so other children may enjoy them," Ohemaa said.
Miss Kyei-Mensah said she was happy that the very first to support her book drive was none other than her own school and expressed gratitude to her mates, their parents, school authorities and 'the entire G.I.S Family' for the generous gesture.
"By making this donation, you have all just helped to transform the lives of some children in the Weija community. For, I believe that a reading child surely makes a successful child," she said.
Accra West boasts of well over 300 public and private first cycle schools, but the thousands of pupils living in the communities have no access to modern library facilities; many school authorities have commended the management of West Hills Mall for 'thinking beyond business' to devote a section of its space for the development of children in its community.
Mr. Jacob Quarmson, Centre Manager at West Hills Mall and Ms. Denise Asare, Marketing Manager, led a delegation of officials to receive the donation.