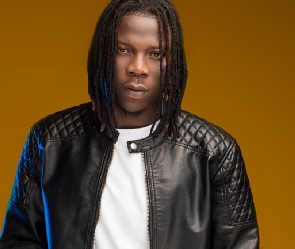 Chief Executive Officer of the Ghana Music Rights Organization (GHAMRO), Abraham Adjetey, has explained why Stonebwoy has only received GHC2000 out of his royalties to date.
Speaking on Happy FM's Showbiz Xtra with host, Doctar Cann, he admitted that everything Stonebwoy said about GHAMRO paying him only GHC2000 as royalties were true. "If we're doing our work and there are some shortcomings, we need to be man enough to admit our faults because we are human. Even machines that have been programmed also err sometimes," he said.

Mr. Adjetey explained that the board of GHAMRO realized that most of the new and young artistes do not get anything from the organization because they have not registered with them, hence, they came up with the idea to create a category called 'Youth Prime' which includes young musicians whose music has gone far and they have gained good recognition in the Ghana music industry.

He expunged that they did this categorization so that they could start to pay these musicians little by little and their monies were sent to whomever they registered with. "Some brought their managers' details and others brought their own details. Stonebwoy brought his own details so we sent him a first 1000GH and another GHC1000," he said.
According to him, Stonebwoy later came to GHAMRO with his lawyer to have a discussion about how he could also support the music industry and it was after the conversation that he asked about his royalties. On Mr. Adjetey's accord, the musician was told that his money is ready, however, he would have to bring in his works to GHAMRO as agreed.

Per his understanding, Stonebwoy sent his lawyer to fulfil his end of the deal by sending his records, however, Mr. Adjetey denied Stonebwoy's lawyer ever showing up at his doorstep with the records. He again admitted that the board has again erred for not reaching out to remind Stonebwoy or his lawyer about their agreement as the lawyer may have forgotten.

Nevertheless, he assured that Stonebwoy's money is ready and will be given to him in full once GHAMRO has received his works.