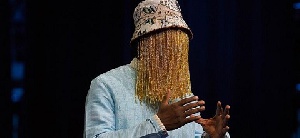 As a youth activist, I truly have my nation's interest at heart. Not only the better growth and development of my country, but I pray we hold together the highest esteem of solid reputation and integrity our forefathers toiled to build.
It will be a stinking curse if we keep paving way for unlawful investigations to besmirch such degree of integrity. Let's bare in mind we are all building upon what our ancestors have already done.

The investigating mode conducted by ANAS and his team TIGER EYE PI which has imbued with entrapment and enticement has tainted the entire nation's hard won reputation reducing Ghana to an ebb and an object of international ridicule.

In fact these findings may delay our economic growth. It is directly or indirectly going to scare investors who are willing to invest in our economy.

First and foremost, those who know me can truly testify that I vehemently abhor corrupt beings. It is a canker I don't smell of its aroma, but the mode one should adopt in winnowing out must and should be lawful. Not to hurt and "castrate" our supreme ethics.

I know I will be subject to criticisms by those who oppose this after reading this piece (but I see from a legal eyes as a veracious write up).
As a columnist and a freelancer, I am not against journalism. I am of the opinion that, the right and better proceedings of journalism should be done in due process. Journalism should not infringe on one's fundamental human rights and be as blasphemous rites of witches.

Entrapment as the action of tricking someone into committing a crime in order to secure their prosecution is unlawful and unethical. I antipathetically oppose to the fact that, entrapment is not a defense in criminal prosecutions.

Entrapment which has been the traditional method used by ANAS and his TIGER EYE PI is clothed with virus and we need legal anti viruses like Martin Kpebu, Prof Kweku Asare, Prof Raymond Atuguba and my mentor Mr. Sadick Abubakar Yahya to do thorough research to cleanse such viruses perpetuated by TIGER EYE PI with the motive to name, shame and jail the sons and daughters (corrupt) of mother Ghana.

Let's take this scenario into consideration and compare to ANAS methodology; There is one beautiful lady living in the same vicinity with you, she has always been accused as a cocotte by your friends but you don't have any evidence. So you try to propose to her in oder to enter amorous relationship with you and she truly and sincerely falls for it.

One whole night, she spends her night with you and truly you enjoyed from her lacuna and went ahead to video her privacy without her consent and telecasted it to the public to view how you shamefully conjugated her into sexual intercourse to proof that truly she is a Woman of the street.
One have to ask himself, is this morally and legally right to conclude that the aforesaid lady cited Supra is a Prostitute?

"Never violate the sacredness of your individual self-respect" ~ Theodore Parker.

Don't you think the man can be slapped with law suit to claim damages for doing so?

Filming someone without his or her consent is pathetic and it shouldn't be tolerated in any democratic state like Ghana.

Juxtaposing with ANAS' method of revealing corrupt beings from various institutions awaken us that our country is sinking due to unlawful and immoral acts of ANAS and TIGER EYE PI sponsored and backed by BBC.
As a friend said, our corruption is too deep embedded in us and as such, needs drastic measures. Truly we need drastic purging medicine to stimulate and evacuate our corrupt vessels since it is choked.

To avoid future judicial invalidating, it should be backed by laws to truly work all- around.

I wish to give dissenting opinion on Hon Ken Agyapong Beef, according to Kennedy Agyapong the honorable member of parliament for Assin Central constituency, alleges Anas uses entrapment and enticement to cajole his victims into falling foul is not timeous. ANAS started his unethical investigation since 1999, the NPP maverick known for his outspokenness didn't see anything wrong with the methodology of Anas Aremeyaw Anas used to uncover the rot in many institutions including judiciary, but has found his voice to condemn the same methodology in the case of the GFA where he was named.

Kennedy Agyapong's untimely beef has revealed that he was masquerading as a saint in anti corruption crusader.

I don't hate Kwasi Nyantakyi but honestly he has proved to be an extremist defrauder in this 21st century who shouldn't be given any node to serve in any public office.
Hon Kennedy Agyapong with high standards in this country shouldn't have made such capricious and haphazardness noise to confute ANAS and his cohorts.

"A person who never made a mistake never tried anything new." ~ Albert Einstein. Let's forgive ANAS as he always plea from those he has named and shamed by his unethical investigative journalism.

Hence the best things need to be down now to exonerate our integrity in other to quash the perpetual calumnious reputation.