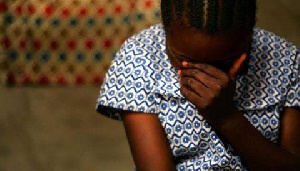 A 26-year-old boy, Isaac Nkansah, a resident at Yakrakrom in the Western region, has allegedly raped his biological sister after he reportedly took tramadol.
Nyankonton Mu Nsem's Odeshieba Kwadwo Owusu said the suspect pounced on the sister and allegedly abused her sexually in her sleep.

Narrating the incident, the reporter indicated that, Isaac Nkansah, came home from town and found the sister deeply asleep. The suspect took advantage of the situation and had sex with the victim, he reported.

The victim is said to have attempted suicide by poising herself with DDT but a good samaritan who chanced upon her foiled the attempt.

The incident that occurred yesterday [Sunday] evening he said left the victim traumatised. When confronted by the family, Isaac Nkansah, said he was high on tramadol when the incident occurred and has appealed for forgiveness and promised not to repeat the act again.
The family is yet to officially report the incident to the police, a situation some residents have described as shocking.