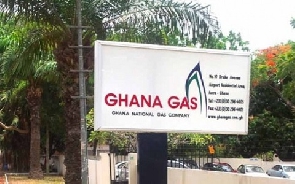 Tue, 19 Feb 2019 Source: Michael Creg Afful
The Ghana National Gas Company (Ghana Gas) has expressed worry over the inability of the Volta River Authority(VRA) in paying for the gas supplies, which has accumulated, to a whopping US$735 million.
The situation, according to the Ghana Gas, is having a toll on its finances, thereby, compelling them to even borrow from banks in order be able to undertake some infrastructural projects.

The Chief Finance Officer at Ghana Gas, Mr Emmanuel Essel, made this known at a press briefing to inform the public about developments in the Ghana Gas company.

"We do give VRA Lean Gas for power production and so it is expected that we will receive monies for the supplies that we give them for power production.

"Unfortunately, over the years payment has not been forthcoming. Sometimes last year we were able to make an arrangement with them where they were paying US$3 million. They started payment from April but ceased in October. And so altogether last year we received US$20million as against the US$30 million we give them every month," he said.

Mr. Essel noted that per their records VRA as at last year is owing Ghana Gas to the tune of US $735 million.
"At the end of last year we have recorded a debt US$ 735 million that would have been higher but for the intervention of Ministry of Finance by taking a bit around US$230 million through a balance sheet restructuring exercise," Mr Essel noted.

According to him, some discussions are currently ongoing at the Board level to see how the debt can be restructured to enable VRA to be able pay their debt.

Difficulties

Touching on how the situation is affecting the operations of the company, Mr Essel said: "it is a tough one for us in terms of finances.

" You are aware that as a young organization we have to embark on a number of capital expenditures to be able to grow the company. Unfortunately, we have to rely on external borrowing to fund our capital expenditure projects.
Source: Michael Creg Afful