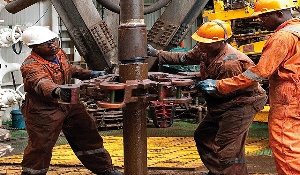 The Accelerated Oil and Gas Capacity Program has secured a $4.5milion programme to push 200 Ghanaians into skilled upstream oil and gas jobs.
President Akufo-Addo launched the program in November 2017 in fulfillment of his manifesto promise to create opportunities for Ghanaians in the upstream sector.

Minister for Information Kojo Oppong Nkrumah said at a press briefing Wednesday's in Accra the aim of the project is to develop the capacity of Ghanaians in Core technical areas such as welding and metal fabrication, pipe fitting, Non-Destructive test technicians, among others so that they can take roles and job opportunities in the sector.

"The project will also develop the capacities of Ghanaian technical and vocational institutions as well as universities to offer world-class training and certifications for the oil and gas industry," he said.

Mr Nkrumah added that since the launch, the AOGC Secretariat has been set up under the Petroleum Commission to see to the realization of these objectives.
"One of its significant successes so far is the securing of some $4.5 million from Aker Energy to provide technical trainings and certifications to train mechanical technicians, electrical technicians, instrumentation technicians, welders and metal fabricators, NDT Technicians, and to ensure that they all at the same time acquire BOSIET (Basic Offshore Induction and Emergency training) to facilitate their smooth transition into the upstream petroleum sector as qualified technicians," he said.

The Information Minister said the agreement will add a further 200 skilled workers to the upstream industry and ensure that increasingly more of the jobs in the upstream sector are now done by Ghanaians.

Training starts in January and by December the last cohort should have been completed.