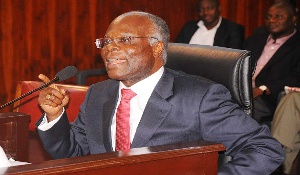 Member of Parliament (MP) for Adansi Asokwa Constituency in Ashanti Region and a former Deputy Energy Minister, Mr Kobina Tahir Hammond, is urging government to abrogate close to thirteen (13) petroleum agreements signed under the erstwhile John Mahama led administration which are non-functional.
According to him none of the 13 companies, not even a single one, have accomplished what it was supposed to do, "I don't know why the Minister says the Petroleum Commission is organizing or having engagements to abrogate.

They have not done what the agreement says they should do. The oil blocks agreements for me should be abrogated, if we have the likes of Exxonmobil coming into this country, why should we allow the companies to sit on these large tracts of blocks. They are wasting our resources" Mr. Hammond made the call in an interview with Today at parliament house on Tuesday.

According to him, the oil blocks agreements were awarded without proper due diligence and it is time to cancel it. He also added that since the country's oil is finite in about 20 years, it is incumbent to start abrogating it now since "sword has not even been cut for some blocks".

His comments follows a question he posed the Energy Ministry on the floor of parliament, on how many oil blocks were awarded between January 2009 and December 2016,and how many of them have achieved their initial exploration requirements or discovered any oil, and if not, what steps is the Ministry taking to abrogate those agreement.

Responding to Mr. K.T.Hammond's concerns, a Deputy Minister for Energy, Mr. William Owuraku Aidoo explained that the Ministry of Energy and the Petroleum Commission are reviewing dormant Petroleum Agreements and depending on the outcome, a decision will be made whether to abrogate or not.
Mr.Owuraku Aidoo indicated that, fourteen (14) oil blocks were awarded between January 2009 and December 2016. One was relinquished (Offshore Accra Contract Area Petroleum Agreement initially operated by Tap-Oil) while five were affected by the International Tribunal of the Law of the Seas (ITLOS) ruling.

The five Petroleum Agreements affected by the ITLOS ruling include : Expanded Shallow Water Tano Block, Offshore South West Tano Block, Central Tano Block, South Deep Water Tano Block and South West Saltpond Block.

These companies have had their initial exploration periods extended to cater for the time lost as a result of the ITLOS ruling.

Work programmes are therefore ongoing for most of them in the initial exploration period because of the extensions.

None of the remaining 13 companies has fulfilled its minimum obligations within the initial exploration period and no discoveries have been made. However, they have carried out their obligations to different degrees. Some have reprocessed the existing data, acquired 23 new 3D seismic data and preparing to drill exploratory wells while others have only reprocessed or still reprocessing the existing data.
Meanwhile, Mr. Emmanuel Armah-Kofi Buah, the then Energy and Petroleum Minister under the Mahama administration stated that government should follow the law and should go ahead to abrogate when necessary.

Parliament has already approved a petroleum agreement between the Government of Ghana, the Ghana National Petroleum Corporation(GNPC),ExxonMobil Exploration and Production Ghana (Deepwater) Limited and Goil Offshore Ghana Limited in respect of Deepwater Cape Three Points Block(DWCTP) Offshore the Republic of Ghana.

Ghana is expected to derive approximately 65% -84% of the local net oil depending on the profitability of the project following the ratification of the ExxonMobil petroleum agreement by parliament.