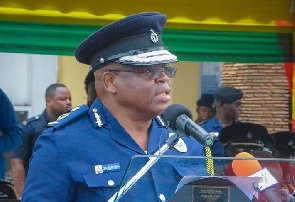 The Acting Inspector General of Police, James Oppong-Boanuh, has been commended for the manner in which he handled the case involving the missing Takoradi girls.
Speaking on TV3's Hot Issues on Saturday, a former Director-General of the Criminal Investigations Directorate (CID) of the Ghana Police Service, COP (rtd) Bright Oduro, said after barely a month in office, the Acting IGP has conducted himself well as regards the case.

The Acting IGP took over from David Asante-Apeatu in July, 2019 in an acting role after the latter retired.

Immediately after taking over, IGP Oppong-Boanuh paid a visit to families of the four victims, who had been reported kidnapped between July, 2018 and December, 2018.

It was under his tenure that police made a breakthrough in finding the remains of the girls.

The human remains were discovered in a septic tank near the former residence of prime suspect Samuel Udoetuk-Willis.

The Acting IGP supervised DNA tests conducted on the remains and on Monday, September 16 announced that the results confirmed that they belonged to the girls.
COP (rtd) Oduro says within a short period at the helm, Mr Oppong-Boanuh can be rated "better".

"I think in the case of these girls, he has done well," he told host Nuong Faalong.

"[This is] because the case has been there for long."

The former CID boss vouched for the credibility of the Acting IGP, saying: "He has shown that he is concerned. He is a competent officer, he is my mate."