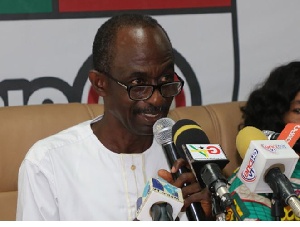 The General Secretary of the opposition National Democratic Congress (NDC), Johnson Asiedu Nketia, has called on the Minister for Regional Reorganization and Development, Dan Kwaku Botwe, to direct his advice on the December 17 referendum to the President.
The Minister has called for the cancellation of the December 17 referendum which is to decide whether political parties should sponsor candidates in district level elections.

"People are saying it should postponed and I'm saying why postpone, it should be withdrawn. Why should we spend money on referendum when there are rains and roads and we cannot make roads? Why should we waste so much money on that?

"It is not a national [priority]," Mr Botwe is quoted as saying. "They should leave it since we are reducing cost. Nothing will change if we postpone it."
Speaking in an interview with Onua FM's Yen Sempa hosted by Nana Yaw Opare on Friday, the NDC scribe said: "Dan Botwe is an NPP person so he should advise the President to abolish it".

"He should liaise with [the government] to re-call the referendum".

Mr. Asiedu Nketia said "it's either Ghanaians vote No or the government withdraw it for us to deliberate more on the issue".