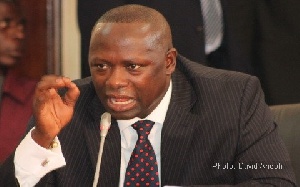 The National Democratic Congress (NDC) Member of Parliament (MP) for Ellembele, Emmanuel Armah-Kofi Buah, has said that there is a deliberate ploy the Nana Akufo-Addo-led government to erode all the gains the previous government led by John Dramani Mahama made in the upstream petroleum sector.
According to him, since the Akufo-Addo-led government took over the reins of power, all the measures he has put in place to supposedly improve on the upstream petroleum sector are all aimed at attacking the achievements made by the NDC in the sector.

For instance, he alleged that the recent amendment made to the Aker oil agreement by Parliament was to basically weaken the powers of the Petroleum Commission and "make sure that we turn the Minister of Energy into an errand boy for Aker Oil".

"That amendment was intended to make sure that we weaken Ghanaian participation in the upstream industry and instead strengthen foreigners", he added.

Addressing journalists on the sidelines of Parliamentary sitting, Tuesday, February 25, 2020, Mr. Buah alleged that all major projects initiated by the NDC that saw the upstream petroleum sector being brought alive are under attack, a situation he noted, does not augur well for the country.

His engagement with the media was to correct what he described as factual inaccuracies in the President's message on the State of the Nation which he delivered on the floor of Parliament last Thursday, February 20, 2020.
Akufo-Addo, he noted, had said in his message on the State of the Nation that his administration has implemented a change in the opaque allocation of Ghana's oil blocs to a more transparent allocation process.

The President, he further noted, alluded to the fact that between 2013 and 2016, despite the signature of 13 Petroleum Agreements the NDC-led government entered into with some other entities from which oil wells were to be drilled, not a single well was drilled.

However, under his tenure, there had been six drilling campaigns and three different blocs with others on the way, assuring that the New Patriotic Party (NPP)-led government will drill more and find more oil.

Referring to a document sourced from the Petroleum Commission, Hon. Buah said there is no iota of truth in what the President with regards to the NDC's failure to drill a single well.

"The Petroleum Commission has it on record that the NDC government between 2013 and 2016 drilled 38 oil wells out of which US$2.2billion was invested into them. This should tell you a lot about the active participation of major oil companies and how oil basins were. So, it is factually inaccurate, it is not correct that there was no drilling activities during the 2013 to 2016 period. On the other hand the record is very clear that the oil upstream sector under Nana Akufo-Addo has really come to a standstill", he noted.
He added "clearly, it is also factually correct that because of the activities in our basins – that is why the NDC can pride itself of 23 discoveries between that periods. We should not be surprised therefore when the NDC was leaving office, it had brought three FPSOs – FPSO Kufuor, FPSO Atta-Mills and FPSO Kwame Nkrumah to increase Ghana's oil production. That is why the NDC left three major producing fields – TEIN, Sankofa and Jubilee".

He said with a robust plan put in place by the John Mahama-led government, Ghana's oil revenue is now projected to hit GH?20.6billion by end of 2020 compared to the GH?6billion the country recouped during the entire periods of the NDC.

To Hon. Buah, it was the NDC-led government that basically changed and brought an oil sector to Ghana.

"The NDC's record in the upstream sector is very clear. The NDC started on ground zero. There was no regulatory institutions in place. The NDC established the Petroleum Commission with Act 821. The NDC also asked a very fundamental question – that how do we deal with the oil revenue? It is the NDC led by President John Mahama that pushed and passed the Petroleum Management Revenue Act. We also thought about building Ghanaian capacities in the oil and gas sector with a Local Content L.I. The purpose was to ensure that Ghanaians were active participants in the oil and gas industry. This has resulted in the country raking up US$1.2billion of contracts going to indigenous Ghanaians and US$5.7 billion of contracts going to Ghanaians and Foreigners as joint ventures. Unfortunately, all these projects are under attack. It is Nana Addo's government that is really attacking the progress that we have made", he added