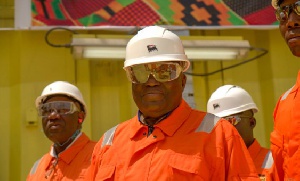 President Nana Addo Dankwa Akufo-Addo has been admonished not to sit unconcerned in the ongoing spat between the Managing Director of the Tema Oil Refinery (TOR) and the Minister of Energy.
A lawyer says he should get to resolving the differences.

There were suggestions attributed to the Minister, Boakye Agyarko, that TOR will be turned into a tank farm in anticipation of a new oil refinery to be constructed by the government at a cost of $4 billion.

But the suggestion appeared not to have gone down well with the TOR MD, Isaac Osei, who vowed to resist such an attempt.

The former Ghana High Commissioner to the UK is quoted as saying, "I didn't come to TOR to preside over its demise. I have not come here to run this company by scrapping it.

"I don't think to convert it into a tank farm is the way forward."

Discussing the issue on TV3's New Day on Saturday, Yaw Oppong, a private legal practitioner, said: "I don't think the president should not be involved".
He said the current government is fond of sitting unconcerned when egos clash, insinuating the impasse boils down to a clash of egos.

Lawyer Oppong cited the cases at the Ghana Cylinder Manufacturing Company Limited and Metro Mass Transit Limited as examples where egos degenerated into spats between some key players.

He noted that if the president does not intervene, the issues will degenerate into a situation where one will not take instructions from the other.

Member of Parliament for Manso-Nkwanta Constituency, Joseph Albert Quarm, called on the two parties – TOR and the Energy Ministry – to get down and talk over the issue.

He said jaw-jawing could resolve the issue amicably.