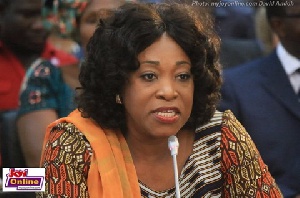 Contrary to his statement that his topmost priority is to seek the welfare of members of the governing New Patriotic Party (NPP) since in his view, they are "more Ghanaian than other Ghanaians", Ghana's High Commissioner to South Africa, George Ayisi-Boateng, has in practice, been a "father for all" since his appointment, Minister of Foreign Affairs, Shirley Ayorkor-Botchwey, has said.
Mr Ayisi-Boatneg has widely being condemned for those comments by the Minority in Parliament, clergy, civil society organisations and a section of Ghanaians, with many calling for his resignation or dismissal.

After defending his comment, Mr Ayisi-Boateng on Wednesday, 1 November, 2017 retracted and apologised.

Reacting to this development on the Executive Breakfast Show (EBS) on Class91.3FM on Thursday, 2 November, 2017 Mrs Ayorkor Botchwey noted that despite Mr Ayisi-Boatneg's statement, in practice, he has not discriminated against any Ghanaian since his appointment.
Mrs Ayorkor Botchwey told show host, Moro Awudu, that: "Anybody who is posted as an envoy is there for all Ghanaians and to ensure that their welfare is paramount irrespective of whether the person is NPP or NDC, and they are all aware of that.

"[Hearing that statement] wasn't a good feeling ...We all err as human beings, he made a mistake, he's come back to retract and apologise and I think that is in the right direction and the important thing is that it doesn't happen again, because I know that in practice, I've been following the activities of our Ambassadors and High Commissioners and I know in practice that, that is not what he's been doing in Pretoria since he got there few months ago. He's been a father for all so I don't even know why he said that. He has not exhibited such behaviour; on the contrary he has embraced everybody."