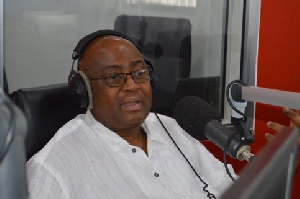 Even though various result tabulations by several media houses projects the flag bearer of the New Patriotic Party (NPP), Nana Akufo-Addo, as the winner of the December 7 presidential poll, pollster Ben Ephson has said he stands by his earlier prediction of a one-touch win for flag bearer of the National Democratic Congress (NDC), President John Mahama.
"Until the Electoral Commission (EC) announces whether Nana Akufo-Addo has won or President Mahama has won or there will be a run-off, I stand by it, because in announcing, the EC will explain the reasons," Mr Ephson said on Friday, December 9.

He said if he had been able to use the same method to predict four presidential polls accurately in the past, he should be able to accept what comes out from the EC.

The Managing Editor of the Daily Dispatch had predicted after his pre-election survey that the governing NDC's presidential candidate would garner 52.4 per cent of the votes while his main rival, Mr Akufo-Addo, would get 45.9 per cent.

Collation of results from 252 constituencies so far puts Mr Akufo-Addo ahead of Mr Mahama with 54.44% with the president bagging 43.69% of votes. Similar collations done by other media houses also put Mr Akufo-Addo ahead.
But Mr Ephson insists that his findings are credible.

He admitted that he had some parliamentary predictions wrong but was quick to add that majority of his forecast came true.

He stated that the unexpected outcome of the presidential poll, rather than the parliamentary, could affect his credibility.

"I don't think the parliamentary results will hit my credibility as a pollster, but rather the presidential that if I get it horribly wrong will hit my credibility as a pollster," he told GHOne news in an interview.