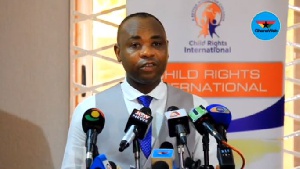 The Child Rights International has served notice it will go to court if the Criminal Investigative Department(CID) of the Ghana Police Service fails to provide information to families on the whereabouts of the three Takoradi kidnapped girls.
The Director-General of the CID, COP Tiwaa Addo-Danquah three weeks ago reassured the families of the missing girls that the Police knew the whereabouts of the girls and urged them to remain calm.

"It's taken us over three months to even identify where the ladies are, and what we don't want to do is do anything that will jeopardize the safety of that. So we are working very hard. All the stakeholders who are supposed to be on board are on board and hopefully, the girls will be brought back safe and sound," DCOP Maame Yaa Tiwaa Addo-Danquah said.

But the Executive Director of Child Rights International, Bright Appiah has indicated that his outfit and concerned families are rolling out several measures to get the police to open up to the families.

He threatened to initiate a court action against the police is nothing is done.
"Three major things we want to do with the Ghana Police Service, basically to have an engagement with them, at least for them to have access to information. And if they know the whereabouts of the children then they should open the communication channel between them and the children.

"Secondly we also want to make our statement known to Parliament for them to also see how they can intervene and if as a result f that we are not getting any intervention from them, we are proceeding to court on the basis of the statement that was made by the Police."

Priscilla Blessing Bentum was first kidnapped on August 17th, 2018, while Ruthlove Quayeson was kidnapped on December 4, 2018, and Priscilla Mantsebeah Koranchie also kidnapped on December 21st, 2018.