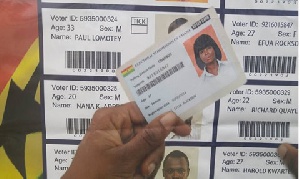 Hundreds of applicants thronging the New Juaben Municipal office of the Electoral Commission in the Eastern Region since the Commission resumed issuance of lost Voter Identification Cards on August 8, 2019 have not been able to replace their cards due to chronic network Challenges that have bedevilled the exercise.
Some applicants have been visiting the EC office for over 10 times but have not been successful in replacing their cards haven't paid the approved amount at Ghana Commercial Bank(GBC).

"In Ghana nothing now nothing works, even a simple voters ID replacement it has become a hell. I have been ascending and descending this EC office for more than 10 times for the past three weeks and they tell me network is off so they can't do if for me "a frustrated applicant told Starr News.

Some of the frustrated applicants have travelling from both far and near with others from outside the Eastern region where they currently staying.

For some of the applicants, their quest to replace their lost ID cards is not for voting purposes, rather they need the ID cards for the purpose of business transactions and other official documentations .

"Me, for instance, I don't need the ID for voting it is not important to me, politicians are just joking with this country corruption everywhere. I need the Card to complement my documents just this week but i have not been successful for the past week so i am here again".
The replacement of the Voter ID Cards exercise is taking place at all district offices of the EC nationwide.

Chairperson of the EC, Mrs Jean Mensah in a statement on Wednesday, 7 August 2018, explained that the exercise was initially put on hold in order to tackle the 2019 limited voters registration exercise.

To acquire a new Voter ID card, an applicant is expected to pay GHS 5 into the EC's bank account and the payslip submitted to the district office where the initial registration was conducted.

The EC is set to begin voter Register exhibition beginning September 10, 2019.