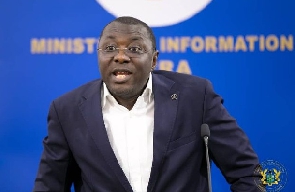 As part of measures to support oil companies operating in Ghana in the wake of the COVID-19 outbreak, the government is considering extending the period of oil exploration for companies engaged in exploration, Dr Mohammed Amin Adam, Deputy Minister of Energy in Charge of Petroleum, has said.
He said on the Joy News channel that this forms one of the government's responses to the impact of the COVID-19 on the petroleum sector of the local economy.

The COVID-19 has impacted negatively on the petroleum sector around the globe. The pandemic caused crude oil prices to decline drastically, a situation that affected governments' budgets.

Dr Amin said: "…Another response that we have is the extension of the exploration period for companies that are doing expropriation."

Asked whether Ghana is overly depending on oil revenue for its development, he said: "I should say that our economy is highly diversified and so we cannot call Ghana an oil-dependent country. Because oil revenue is just about 1.2per cent of GDP and so we are not an oil-dependent nation, we are very diversified."

Recently, the Petroleum Commission allayed fears the coronavirus outbreak is going to derail oil and gas production in the country.

According to the CEO of the Commission, Mr Egbert Faibile Jnr., none of the companies operating in Ghana's Upstream Sector has been hit by the pandemic.
This he attributes to safety protocols been adhered to by these Companies.

Egbert Faibile Jnr, made this known when the Commission took delivery of some Solar-Pipe Hand Washing Machines to reduce further spread of the disease.

He said "So far, I am able to report that the companies – Tullow, ENI, the and those who operate the FPOS, no report of COVID-19 has come to us from them. I think it is because the companies have taken the issues very seriously and are following the protocols.

"The numbers onshore have gone relatively low just ensure that COVID-19 does not come offshore and then spread.

"There is no effect on production. Production is on course. Just like every other institution, COVID-19 has affected us, but I want to say that it hasn't stopped us from working. We follow the protocols, we follow the directives from the president and the Ministry of Health and the Ghana Health service."