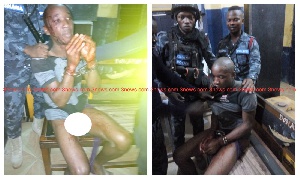 The alleged serial kidnapper who broke jail in Takoradi has been put before court on three counts of kidnapping, escaping lawful custody and resisting arrest.
Samuel Wills, who appeared in court Wednesday without a lawyer, has been remanded into police custody to assist the police in ongoing investigations to rescue three of the kidnapped girls.

He is to appear again on January 16, 2016 when his plea is expected to be taken.

Prosecuting Chief Inspector Benard Paa Ahinsan told the court three families reported their children were missing following which Wills was arrested as a prime suspect in the case that has caused fear among people of Sekondi-Takoradi.

He was then put in Police custody until December 24, 2018 for investigations to take place but before the due date, he escaped from the Takoradi Central Police Station cell where he was being held.

"He used a hacksaw to cut three of five 5×8 inches iron rod of the window of the cells and escaped through it," Chief Inspector Benard Paa Ahinsan told the court Wednesday.

A manhunt by the Police led to his re-arrest.
Another manhunt led to his re-arrest last week in an uncompleted building at Kansaworado, a surburb of Sekondi.

The prosecution told the court a fight ensued between the suspect and the three policemen who went to arrest him.

Alexander Korankye, father to one of the three kidnapped girls, Priscilla Minaba Korankye, identified clothes of her daughter in court amidst tears.

In an interview he told Connect News, the last time he saw her daughter was on December 21, 2018.

He indicated he has so far paid1,000 cedis to Samuel Wills through MTN mobile money.

He said even though he is happy the suspect has been rearrested, his happiness will be complete when he sees his daughter.