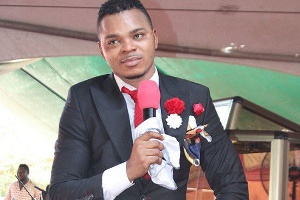 The founder of God's Way International Gospel Church Bishop Daniel Obinim and his two associate pastors have been sentenced to a total of GHc12,000 fine for assaulting two teenagers.
They pleaded guilty with explanation and face six months in jail if they default in payment.

The court ordered the accused persons to sign a bond of good behaviour for the next 12 months, having fined them GHC4,000 each.

"We are satisfied and the court has done justice to the case. My client has learnt his lessons," his lawyer said.

Bishop Obinim was dragged before the Court for allegedly assaulting two adopted children in the presence of his congregation – a 14-year-old girl and a 16-year-old boy who lived with him.

He is said to have committed the act with two of his pastors, Kingsley Baah and Solomon Abraham. The two were charged with abetment.

They were on a GH¢10,000 bail each until judgement was given today, Wednesday, 26 September 2018.
The prosecution say the complainant, Irene Abochie-Nyahe, was a legal practitioner residing at Community 17, Lashibi, and that on August 17, 2016, at about 1700 hours, the Accra Branch of the Church held a service, at which Bishop Obinim claimed he had a revelation from God that the two alleged victims were engaged in pre-marital sex resulting in the 14-year old girl being pregnant.

The prosecution said Obinim said the victim was in the process of aborting the pregnancy, therefore, the Holy Spirit had directed him (Obinim) to chastise them in the presence of the congregation.

According to the prosecution in the full glare of the church, Obinim allegedly took off his belt and assaulted them.

The prosecution said in the process, his two pastors, Baah and Abraham prevented the female victim from running away from the punishment and that when she could not bear the pain, she sought refuge with Mrs. Florence Obinim but her husband asked her to stay away.

He said the assault only stopped after Obinim became content with the alleged punishment.