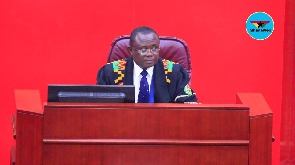 The position of both the majority and the minority group on deputy presiding speaker voting or otherwise is both sound and supported by good reasoning for many reasons. This issue has come up because the drafters of the 1992 Constitution did not anticipate the possibility of a hung parliament, as we have now.
This article, therefore, seeks to amplify and also explore the reasons for either positions with the view to suggesting an alternative perspective to both positions in a manner that quashes the usual acrimony that clouds our body politic.

The position of the Majority to allow presiding Deputy Speakers who are elected Members of Parliament themselves to vote is a sound position based on fairness and justice.

The Deputy Speakers may have come to Parliament on the ticket of a political party whose interest, they must represent and articulate squarely.

They are also the voice of their constituents in whose authority they come to parliament. Their constituents must therefore have their voices heard on all issues of national importance through them as Members of Parliament who simultaneously act as deputy speakers.

The position of the majority is therefore not strange as it, in fact, is consistent with the practices and conventions in another political milieu such as Canada.
In the House of Commons of Canada, "the Speaker does not participate in debate and votes only in cases of an equality of voices; in such an eventuality, the Speaker is responsible for breaking the tie by casting a vote" as captured by House of Commons procedure and practice edited by Robert Marleau and Camille Montpetit, 2000th Edition.

Therefore, Former President Mahama's post after the Supreme Court ruling that seeks to suggest judicial interference in the work of Parliament is neither here nor there. The point is, the judiciary through judicial review could declare an act of public officials including laws as null and void and therefore of no effect if they cannot stand the test of time.

However, the position of the minority is sound and is in sync with rules of natural justice which bar people to become judges in their own case. The point is, Deputy Speakers whose political party is incumbent automatically will support any motion that emanates from government.

Therefore, allowing such Deputy Speakers to vote interferes with their unique neutral position which earns them the respect required for them to be able to bring all the members especially those from the Minority side under their control to be able to conduct the business of the house effectively.

The alternative solution, therefore, is to be crafty and creative to reduce the usual tension by nominating people from outside Parliament for onward election by the elected Members of Parliament to become Deputy Speakers as in the case of the main Speaker.