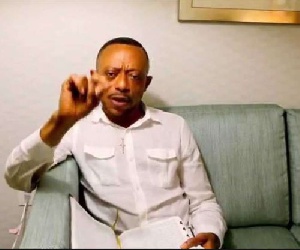 Christians, Muslims, traditionalists must all pray towards a peaceful elections 2016 or the calamities that awaits Ghana will be disastrous - controversial man of God, Rev Owusu Bempah has warned in an interview on NEAT FM's morning show 'Ghana Montie'.
The Founder and leader of the Glorious Word Ministry says he foresees "evil" – but noted that the only weapon to it that is prayers.

"In the spiritual realm, Ghanaians must pray before, during and after the December elections. This will ensure and maintain the peace the country is noted for," he said.
Prophet Isaac Owusu Bempah also advised the Chairperson of the Electoral Commission, Mrs Charlotte Osei to be above-board in her supervision so as to ensure peaceful elections.

"We beg her to be fair to all political parties to prevent any untoward occurrence. We are praying tireless and I believe that nothing will happen in this country. But if we fail to pray, then this country will not be safe," he said.