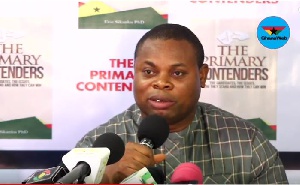 Founding President and Chief Executive Officer of policy think tank, Imani Centre for Policy and Education, Franklin Cudjoe, has revealed that the Electoral commission (EC), has discarded its own advisory committee after the committee suggested that the views of every party ought to be heard with regards to the compilation of the new voters' register.
He adds that the committee has not been invited for a meeting for some time now because of the suggestion they made to the EC.

The Electoral Commission (EC) in December 2019, inaugurated a 21-member Eminent Advisory Committee to enhance engagement and interactions between the Commission and the Ghanaian Society, as the nation prepares towards the 2020 General Elections.

he Committee, which is made up of distinguished eminent Ghanaians, is under the Chairmanship of Mr Justice Emile Francis Short, former Chairman, Commission on Human Rights and Administrative Justice.
Franklin Cudjoe also revealed the committee has been dissolved for some time now; this he made known on CitiTV's 'Big Issues', when he was asked by the host reasons they petitioned Asantehene Otumfuo Osei Tutu II and the Asanteman Traditional Council to intervene in the Electoral Commission's (EC) decision to compile a new voter register.

"…We have already written to the National House of Chiefs so we are just waiting and there is no law that prevents anybody seeing any king or chief. So, I do not think there are some hierarchical nature but don't forget the Asanteman council is part of the National House of Chief such that we had already appealed to Togbe Afede who by the way has written letter 3 times to the Electoral commission and the commission has just refused. In fact, the EC set up its advisory committee of eminent persons by the way, just that he made the suggestion that you need to listen to every party they have been discarded because I don't know the last time there were called for a meeting. The national house of chiefs have been disregarded three times and I see Togbe Afede suggesting that this is not the way to go. So I do not think that seeing the Asanteman council was wrong.

He said the Council will invite the Electoral Commission to hear their side of the story for fairness.