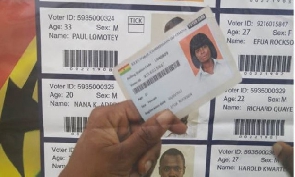 The Electoral Commission, Ghana (EC) is set to open nominations for the district assembly and unit committee elections scheduled for Tuesday, December 17.
The nominations are expected to be received by a Returning Officer at all electoral areas in each district from Monday, October 7 to Friday, October 11.

The forms will, however, be available from Thursday, October 3, the EC said in a press release on Wednesday, October 2.

"The nomination forms for each candidate shall be signed or marked by two registered voters, as Proposer and Seconder and supported by eighteen other registered voters in the District as assenting to the nominations of a candidate seeking election to a District Assembly and eight other registered voters in the District, for candidates seeking election to a unit committee," the release issued by the Chair of the Commission, Jean Mensa, explained.
The forms are expected to be endorsed with the candidate's consent to nomination.

All completed forms are expected to be submitted in quadruplicates free of charge.