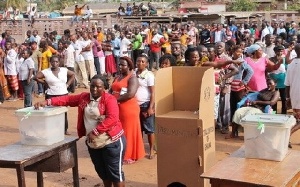 The Founder and Head Pastor of The Maker's House Chapel International, Dr. Michael Boadi Nyamekye, has taken a swipe at his fellow preachers who use the pulpit to predict elections, arguing such acts could brew chaos.
"Our constitution permits freedom of speech. I have heard so many people prophesying victory for the NPP while others are prophesying victory for the NDC. God cannot be an author of confusion. The same God cannot give divergent views. As to whether what they are saying is good or bad, I think they have the right to say what they want to say," Dr. Nyamekye told the media ahead of the church's upcoming national event dubbed 'The Experience' conference.

He added: "But if you go by the social barometer for judging good character, then you will say it is not so well, it is not so good and it is not a good character. Why so because apparently, you are brewing tension as well. Reason being that if somebody is declared as the winner by a prophet and the prophet has following and the following believe that what the prophet said is true and the EC also declares another person winner – if the prophet's following are headstrong, they can start or foment trouble."

"So, as for public declaration as to whoever is going to win the election, I personally will not endorse it," the preacher said.

'The Experience Conference' is a programme put together by The Maker's House Chapel International to help develop and raise the spirituality of people and to bring them into an arena whereby they can experience the divine favour of God.
The event will kick start on October 9 and ends on October 16, 2016 under the theme 'The Wheels of Favour' with Rev. Ampiah Kwofie and Rev. Eastwood Anaba appearing as guest pastors.

The Conference is preceded by a worship concert dubbed "My Heart Sings" which takes place at the church auditorium on Saturday, October 8.

Dr. Nyamekye has, however, called on Ghanaians to pray for peace ahead of the December 7 polls.

"We should pray for post-elections because the person going to lead us will not necessarily take us out of our doom and gloom. What is going to take us into places of glory – whether it is President Mahama continuing his tenure or Akufo-Addo or Dr. Papa Kwesi Nduom coming … whoever is coming will need the right focus, the personality and resilience to lead the nation right. So, if you are a spiritual leader, pray that peace reign in our land," he counseled.