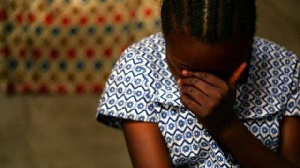 The mother of the 14-year-old girl who was gang-raped by four men in a town in the Ellembelle district of the Western Region has threatened to invoke curses on the alleged perpetrators as well as anyone who obstructs justice.
In an interview with Atinka News, mother of the victim whose name was given as Maa Gifty stated that she suspects a cover-up, adding that she will invoke curses if the Police fail to act swiftly after a week.

"I am giving them a one -week ultimatum, I will invoke curses on anyone who tries to make my daughter's rape case a foolish one", she fumed.

Background

A 14- year -old girl (name withheld) has been raped by four men at Ellembelle in the Western Region.

The ages of the perpetrators are 35, 25, 18 and 17. The case is currently being handled by the Esiama Police.
The incident occurred last Monday (15-01-18) at a party at Asenda, a small community within the Elelbelle district.

Narrating the harrowing incident on Ankobra FM Tuesday, the victim revealed that the men drugged her, took her to an undisclosed location, and raped her .

According to the girl, the last thing she saw at the party was a drink (Fanta) she was offered by one of the suspects.

"I woke up the next day and saw multiple blood stains on my underwear. I also felt sever pains in my vagina and abdomen," the victim recalled.

She failed to narrate the ordeal to her mother because she (victim) did not want to be beaten for attending a party. She rather confided in a friend's mother who informed her (victim) mother.
They later lodged a complaint with the Esiama Police Station. A subsequent examination at the Eikwe Hospital confirmed the incident.

Maa Gifty, mother of the victim said parents of three of the suspects visited her Monday evening (22-01-18) for an amicable solution, but she rejected the offer.

No arrest has been made so far even though the incident has been reported to the police.