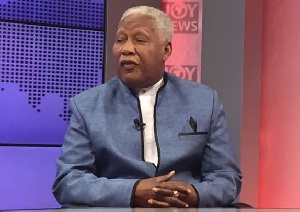 Ignore the ill-intended hoax on the death of E.T Mensah and treat as a hoax. It's the work of evil plotters who will not succeed.
This is the firm statement from the family of the former MP of Ningo Prampram, following false news of his death earlier on Saturday.

The former minister of state was rumoured dead just about the same time the demise of the former UN General Secretary, Kofi Annan was confirmed.

The latter's may have been true, but the former's was fake news which the statement claimed was conjured by "evil plotters" whose rewards would be exacted by the Almighty himself.

It is not the first time political figures have been pronounced dead by lay 'physicians' whose only qualification in the medical field constitute access to mobile phones and social media.

The late former President John Evans Atta Mills was a victim of such deceit until his actual death years later.
E.T Mensah, who is 'alive and kicking', may only depart on the day appointed by God, according to the statement.

Read the full statement below.

It is unGhanaian, uncouth and hurting to any culture to circulate news of the death of anyone when indeed such a person is alive and kicking; no matter the ill-wish and malice harboured towards such person.

On behalf of the children of ET Mensah, former Minister of State under the NDC1&2 administration, I, HT Mensah wish, and do hereby state emphatically, that the said ET Mensah is alive and healthy.

It is appointed unto everyone once to be born, and after this death. And by God's power and determination, no man has such authority to change such decree. And it is under the eagle wings of this decree, that our father, ET Mensah, is blessed until his date of appointment, which only God determines.
We wish the people behind such evil plot well in their endeavours, for vengeance belongs to God.

Decent and discerning Ghanaians, ignore the ill-intended information. Treat it as hoax.

Happy Homowo to you all

HT Mensah

sgd