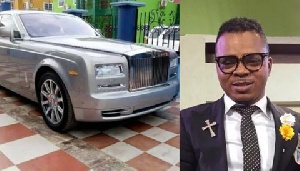 General Overseer of the Family Chapel International Church Rev. Victor Osei has chided fellow men of God who show off their property saying it does not make sense.
According to him, such activities of these so-called men of God triggered the government's decision to tax the church.

Speaking in an interview with Oyerepa Fm in Kumasi monitored by MyNewsGh.com's Syxtus Eshun, the man of God noted that even when God blesses you, there is no need for one to show off his or her property as has been the culture in recent times.

"When you get time for God's word, he will surely bless you. One of the greatest problems I have been hearing is that some pastors show off their cars and other things. It's not maturity. Even if the Lord has blessed you as a man of God and you have in your account a 20 million dollars, do you have to come to public and tell everybody you have such amount in your account? It doesn't make sense". Rev Osei said.

"Saying I have this number of houses in Dubai, I have bought the latest car doesn't show maturity". He added.
To him the government has come to realize if the church has become a money-making venture for the founders of the church, then it has to be taxed.

Though Rev. Victor Osei didn't make mention of any pastor in his 24-minutes interview, yet his comment could be directed to Reverend Obofuor and Angel Obinim who have gained notoriety in flaunting their latest cars acquired and the number of houses they have in Ghana and elsewhere in the world.