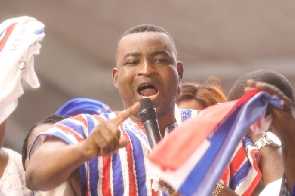 Ashanti Regional Chairman of the New Patriotic Party (NPP) on Saturday set himself on a collision course with delegates of the Subin Constituency when he declared Eugene Boakye Antwi the victor in a fraudulent and fictitious election.
Bernard Antwi Boasiako aka Chairman Wontumi, flagrantly disregarded a court injunction and made his protégé, one Salifu Ahmed, the Returning Officer in an election which was abandoned by the Electoral Commission (EC) and main contender Joseph Boakye Danquah.

Prior to the illegitimate elections, the names of more than 200 delegates were illegally removed from the album, allowing outsiders to partake in the election widely rejected by political watchers.

Chairman Wontumi and his associates set up fake polling stations in Saturday's so-called election, ballot stuffing and getting people to cast multiple votes in favour of the incumbent MP, Eugene Boakye Antwi.

Campaigning was marred by acrimony and intimidation as supporters of JB Danquah have constantly been targeted by the constituency executives, who have sworn to ensure the MP, Eugene Boakye Antwi is retained by hook or crook.

Speaking to the media after the declaration of the results, JB Danquah said "the electoral process could not be said to have adequately complied with the standards for elections. It is a bogus election."

He further called on his supporters and the party's hierarchy not to recognize the results of the election, and demanded 'serious punishment' for those who took part in the fraudulent election.
"Intimidation has been the hallmark of the elections at Subin from the onset. It is also pretty clear that there were significant efforts to disenfranchise people in the run-up to the election and on the day itself," JB Danquah intimated.

On Friday, 50 delegates including Isaac Nimako, Richard Owusu Nti and Yaw Boafo secured an injunction restraining the party's election committee and the Electoral Commission from holding the primaries.

The ex-parte injunction, which was granted by a Kumasi High Court was effective from Friday to Monday, 22nd June, 2020, according to reports.

"It is hereby ordered that the respondent and all persons claiming through the respondent (EC) refrain from holding the election scheduled to take place on Saturday, 20th June, 2020," the court ruled on Friday.

However, the aggrieved delegates who took the matter to the law court are said to cite Chairman Wontumi and the party's hierarchy for contempt.