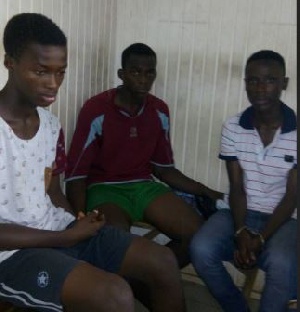 The Ashanti regional police command has confirmed the arrest of three of the seven suspects who were seen in a gang rape video at Bantama, a suburb of Kumasi in the Ashanti region.
The arrest was confirmed by the Regional Public Relations Officer, ASP Juliana Obeng at a press briefing on Monday, December 18, 2017.

She said : "The command has in respect of the above arrested three suspects. The arrest of the these suspects was made on Saturday, 6th December, 2017 at their various homes at Bantama".

She said the three 3 suspects who have been arrested and their four accomplices (names withheld) who are currently at large are all students.

Ms Obeng, said two of the three who have been arrested are in first year of Senior High School while the other is a final year Junior High School student.

All the three suspects, according to ASP Obeng, are currently in police custody assisting in investigations while efforts are also being made to arrest the other four.
"Meanwhile the victim has been issued with a medical form. She is currently in the care of the police undergoing psychological counseling. She is cooperating with police in their investigations," Ms Obeng added.

She said the command condemns the act and "would like to use this medium to send a very strong warning to those in possession of the video and those circulating same to desist from that, since culprits will be dealt with according to law".

In the video, the boys overpowered the girl on the floor and had their turn with her as she struggled for freedom.

The little over two-minute video, suspected to have been shot by the boys, captured the faces of the rapists as well as the victim.

The rapists were heard speaking the Twi language.