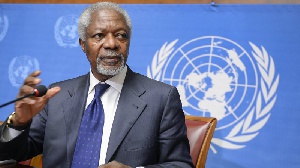 Thu, 23 Aug 2018 Source: Joseph Kingsley Eyiah
A book of Condolence has been opened by the General Consulate of the Republic of Ghana in Toronto at its office located at 4665 Yonge Street, Suite 205, North York from August 22nd Wednesday, 2018, to Wednesday August 29th, 2018, 10:00 am - 2:00 pm for well-wishers and friends pay their last respects to H.E. Mr. Kofi Annan.
Mr. Annan, former UN Secretary-General who passed away on August 18, 2018 in Switzerland was a proud son of Ghana. His death at the age of 80 is a big loss to Ghana and the diplomatic world.

The Consulate in collaboration with the Ghanaian Canadian Association of Ontario (GCAO) is planning a special celebration of the life of the late statesman, Mr. Kofi Annan in Toronto soon.

Meanwhile, the GCAO on behalf of the Ghanaian community in Ontario has sent a message of condolences to the General Consulate of Ghana in Toronto. The message signed by its Executive President, Emmanuel Duodu reads: "The Ghanaian Canadian Association of Ontario (GCAO), on behalf of all Ghanaians living in Ontario-Canada condole with the Consulate General of Ghana in Toronto on the demise of consummate international diplomat and highly respected son of Ghana, Mr. Kofi Annan, who served as the U.N. Secretary-General from 1996 to 2006.

"As the first black African to take up the role of the world's top diplomat, Mr Kofi Annan raised the image and flag of our motherland Ghana high with his distinguishable service to the world.
"In this moment of sorrow, we extend our sincere condolences to the Ghana Consulate in Toronto, the Ghana Mission in Ottawa, the government of Ghana and the family of Mr. Kofi Annan.

Our thoughts and prayers go out to them as we all come to terms with this sad news."


Source: Joseph Kingsley Eyiah