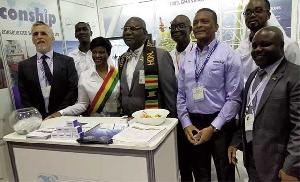 The annual Offshore Technology Conference (OTC) in Houston Texas in the United States of America (USA) has come and gone but the participants still relive the excitement that characterised the four-day event from April 30 to May 3, 2018.
OTC is a major programme on the calendar of oil and gas sector; a one stop shop for the players in the vibrant industry. It provides the platform for players to interact and strike deals. Ghana recorded significant traffic to its pavilion. Several countries and companies attended brokering and striking deals.

"For 50 years, OTC has encouraged scientists and engineers to develop innovative technologies that have unleashed the potential of offshore energy sources needed for global growth and progress. I'd like to invite my peers to join me in celebrating this momentous occasion at OTC 2018," the organisers stated.

However, this year was unique to the Ghanaian participants, led by Energy Minister Boakye Agyarko, who was there with two of his deputies — Mohammed Amin Anta and Joseph Cudjoe.

For the first time, Ghanaian participants had a place of their own, a pavilion that housed most of the participating organisations.

Previously, Ghana had gone to the conference as delegates without a shelter. But this time, they attended as exhibitors; a development that was highly praised by Mr Agyarko.
"There is little doubt that the OTC is the oil and gas industry's biggest event that brings together oil industry practitioners, IOCs, service companies, vendors, governments and others, to meet, dialogue, share ideas and pursue various agenda. This is the 50th edition of the OTC. Many Ghanaians, Ghanaians companies and companies operating in Ghana have participated in the OTC for many years and for some decades. However, my information is that this is the first time Ghana is having its pavilion," he highlighted.

Also in attendance were most of the agencies under the Energy Ministry represented by their chief executive officers. The list included National Petroleum Authority's Hassan Tampuli, Petroleum Commission's Egbert Faibille, Ghana Gas Company's Dr Asante, Ghana National Petroleum Corporation (GNPC), BOST and Tema Oil Refinery's Isaac Osei, among others.

The decision to move Ghana to a new level in its OTC participation was spearheaded by Consolidated Shipping Agencies Limited (Conship) chief executive Dr M. C Vasnani, who mooted the idea of acquiring a pavilion.

He made a contact with OTC to establish a Ghana pavilion.

"The Ghana Pavilion at OTC 2018 became a reality with tremendous support from the US Commercial Service, the American Chamber of Commerce in Ghana, The Petroleum Commission and the Ministry of Energy spearheaded by the Hon Boakye Agyarko," Dr Vasnani told DAILY GUIDE.
Ghana has been participating in OTC conferences since the commercial discovery oil for the past 10 years, but for the first time, there were over 250 delegates and exhibitors who attended the event, which Vasnani described as very encouraging.

There was a lot of traffic at the Ghana Pavilion during the show as foreign companies and other countries were interested in what Ghana had to offer. Some foreign companies didn't even know that Ghana was drilling oil or that Ghana had the expertise in oil and gas, the Conship boss said, adding that it was a good platform to advertise what Ghanaian companies could offer and also to send out the strong message that Ghana is truly open for business and investment opportunities.

New Technologies

Companies participating at the OTC are exposed to new technologies and services for which they can tap into to enhance and improve their businesses. Also, by exhibiting, companies also promote their expertise to a platform of over 100,000 people and 3,000 companies that visit the show.

Companies
He explained that Ghanaian companies with various expertises in the oil and gas industry bought into the vision of projecting Ghana and acquired booths to exhibit their products.

These companies were KOSMOS Energy, Ghana National Petroleum Company, Tullow Ghana Limited, Springfield E&P, the Ministry of Energy (and its agencies), Greenline Logistics, Ecoalpha Services (in partnership with the Aviation Company Seeker), Exceed Well Management Ghana, Seaweld Engineering, Advantage Group, Ghana Revenue Authority, Ghana Oil and Gas Service Providers Association, Woodfields Group, I-Neema and Conship.

These companies will go into the history books as being the first exhibitors at the Ghana Pavilion, Vasnani indicated.

Mr Agyarko took time to visit all the booths of every Ghanaian company that exhibited at the pavilion and interacted with them; with excitement written on his face.

The minister, who hosted series of meetings with potential investors in Ghana's oil and gas industry, was very strong articulating Ghana's investment opportunities.
He has a very strong opinion on how Ghana can reap from its oil and gas resources even though the country currently produces just about 200,000 barrels a day compared to countries like Nigeria with over 2.2million barrels a day.

2019 Expectations

With the successful participation of the Ghanaian contingent, expectation for 2019 is very high.

Dr Vasnani said, "Ghana Pavilion at OTC 2019 will be bigger and better. A larger space has been secured and the intention is to create a meeting lounge for exhibitors who intend to conduct strategic meetings during the event. Companies have already started signing up for the next event which takes place in May 2019. Next year will be very exciting."

Within minutes that the event was declared closed, all pavilions and exhibiting booths were brought down in a minute, making the magnificent NRG Park in Houston bare as if nothing had happened.