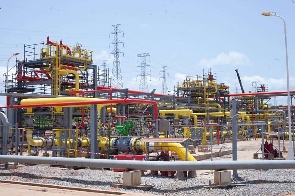 A former Managing Director of JP Morgan Global Financial Markets, Yaw Asamoah, has called on the government to focus on developing natural gas, which he said has the potential to attract massive investments.
He was speaking at a virtual Sustainable Development Goals (SDGs) event on the theme "Achieving the SDGs through Impact Investing: The Critical Role of FDI".

"One of the things we should be thinking about is how we can probably harness our natural gas. I think when we talk clean energy, a lot of people think about wind, solar and hydro, but oftentimes natural gas is overlooked; it emits less carbon than oil, it's a cleaner fuel, [and] investors think of it as a bridge to a cleaner energy future."

Mr. Asamoah added that natural gas presents an opportunity to investors to help fund some of the infrastructure—such as pipelines, storage facilities and distribution systems—that can harness the gas to fuel industrialisation, manufacturing and electricity generation.

"I think that is where we should focus on about clean energy in order to meet the objectives of the SDGs," he told the virtual audience.

Solomon Asamoah, the Managing Director of the Ghana Infrastructure Investment Fund (GIIF), said the country has to endeavour to bridge the infrastructural deficit in a sustainable and clean way, with more focus on the quality of life of the citizenry.
"What I see is that there are increasingly large amounts of funds available for such infrastructure. Government has to play a significant role in making sure the environment is conducive to attract that financing," he said.

He also added: "We need to improve the resilience of the infrastructure and [address] the negative effects of climate change. The DFIs [Development Finance Institutions] want more renewables. There is huge opportunity to increase our renewables, particularly solar and wind, and that will be a large opportunity to attract financiers."

The Head of Programs, Agro-Processing and Agribusiness at Mastercard Foundation, Gottfried Odamtten-Sowah, said his organisation was working to unlock close to 3m jobs by the end of 2030, with sustainable agriculture being the strategy for Ghana.

Dr. Eugene Owusu, the Special Advisor to the President on the SDGs, said the solutions and experiences proposed by the experts will be leveraged by the government as it seeks to maximise financing for the SDGs, driven by the business opportunities inherent in the goals.

The event was organised by the SDGs Advocacy Unit under the auspices of President Akufo-Addo, co-chair of the SDG Advocates.