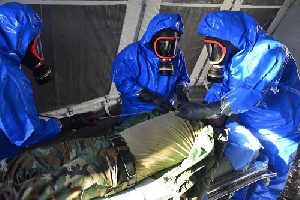 Every week, IRIN's team of specialist editors scans the humanitarian horizon to curate a reading list on important and unfolding trends and events around the globe:
The worst kind of club

The Democratic Republic of Congo has joined a club no country wants to join: It has been named a "Level 3" emergency by the international relief community. The "L3" designation is meant to galvanise a more ambitious and urgent response from the UN, NGOs, and donors. An OCHA spokesperson confirmed the decision to IRIN, saying the measure will last for an initial six months and is focused on the situation in the greater Kasai region, as well as Tanganyika and South Kivu, where conflict and displacement have soared this year. OCHA says only 30 percent of this year's humanitarian appeal was funded – a 10-year low. Informed sources say a new UN humanitarian coordinator, Canadian Kim Bolduc, will be deployed. Decisions to declare an L3 come from the Inter-Agency Standing Committee (IASC), which includes the major UN agencies and international NGO groups. Congo is the fourth current L3 response. The others are for operations in Iraq, Syria, and Yemen. Previous L3s have at one time been declared for Central African Republic, the Philippines and South Sudan.

How to negotiate with armed groups

Staying in similar territory, what do members of armed groups really think of humanitarian workers? It's an important question when it comes to safety and operational effectiveness, so the International NGO Safety Organisation asked groups in the eastern Democratic Republic of Congo. They concluded that the gunmen generally wanted to appear respectful of International Humanitarian Law. But while the presence of aid workers was generally welcomed, there were some sharp criticisms of the humanitarian response. These were based on the supposed incompetence of the NGOs, a perception of skewed recruitment practices, corruption, and the failure to consult with local people leading to poor programming. There was also suspicion of "political behaviour" by some NGOs, including spying. Recommendations by INSO based on the study included: keep talking to the armed groups; keep that messaging consistent; avoid establishing too-personal links that could be misconstrued as bias; don't ignore the rank-and-file; and be transparent by managing breeches of humanitarian and operational principles rather than ignoring them. The study was conducted in 2014, but only released this week.

Last act for UN chemical weapons probe?

The results are in: A UN investigative panel announced Thursday that the Syrian government's air force was responsible for an April sarin gas attack that killed dozens in the village of Khan Sheikhoun. This should not come as a surprise – evidence, including a declassified US intelligence report, pointed in that direction early on, although Syrian President Bashar al-Assad called the whole thing a "fabrication" and Russia said it was caused by a bomb on the ground. The US responded with a cruise missile strike on a Syrian military base, in what appeared to be a return of the chemical weapons "red line". But this investigation may be the last for the panel (full name: Organisation for the Prohibition of Chemical Weapons-United Nations Joint Investigative Mechanism), at least in its current form. Just days before the results were announced, Russia, saying it was waiting to see the panel's Khan Sheikhoun findings, used its Security Council veto to stop a one-year extension of the body's mandate. The council has until 17 November to renew the JIM, and Russia's ambassador to the UN has said: "we will return to [the issue]." What that means for independent investigations of a conflict rife with wrongdoing remains to be seen.
No "end to radicalisation"

After five months of fierce clashes demolished parts of the city and raised questions over a new breed of Islamist insurgency, officials in the Philippines this week declared an end to fighting in Marawi. Authorities say the first of an estimated 360,000 evacuated residents will begin returning to their homes in the coming days. But the humanitarian needs are still daunting and will last well into the future. The siege on Marawi wiped out livelihoods as the city emptied; the impacts spread to the rest of Lanao del Sur province, where Marawi is the capital and was the economic hub. Food and water supplies in official evacuation centres were erratic throughout the siege; aid groups say it will be essential to monitor signs of severe acute malnutrition for the next six to 12 months. Observers say the instability caused by the clashes will likely lead to clan feuds and/or new retaliations from those aligned with so-called Islamic State. As IRIN reported earlier, radicalised militants are already using the Marawi siege as propaganda. Many in the Muslim-majority city were already distrustful of the Philippine government. Observers say this makes it even more imperative that the rebuilding process is both transparent and inclusive. "Whatever happens," conflict analyst Sidney Jones wrote in The Interpreter this month, "the 'liberation' of Marawi does not mean an end to radicalisation."

Burundi off the hook?

The International Criminal Court reached an unwanted and unprecedented milestone today: the withdrawal of a member state. The state in question is Burundi, where senior officials stand accused by a UN commission of crimes against humanity, including "extrajudicial executions, arbitrary arrests and detention, torture, sexual violence, cruel, inhuman or degrading treatment, and enforced disappearances." In April last year, the ICC's prosecutor opened a "preliminary examination" of events in Burundi, a process aimed at determining whether there are grounds to mount a full investigation and eventually prosecute suspects. Despite an appeal to do so by the UN commission, the court did not step up its engagement. One advocacy group said the withdrawal "could set a potentially very dangerous precedent" by encouraging other countries to follow suit simply to avoid criminal investigations. Whether Burundi's perpetrators are now really off the ICC hook is not entirely clear and depends on how one interprets Article 127 of its founding statute. While Burundi, which denied UN investigators entry into the country, may still have a notional obligation to cooperate with the court, "there is no possibility for the ICC to take further action," international law expert Benjamin Dürr told IRIN. Human Rights Watch, meanwhile, suggested there might be some wriggle room in the Rome Statute, and urged the court to "take a progressive approach in interpreting its jurisdiction so that victims maintain a viable path to justice."

Did you miss it?

Sweden's child migrant mystery
This fascinating BBC World Service investigation looks into a mysterious coma-like state that only seems to afflict the children of asylum seekers in Sweden. So-called "Resignation Syndrome" has been baffling Swedish health professionals for years. Are they any closer to understanding why so many children are withdrawing from the world, refusing to speak, walk, and eat? Have a listen and find out.

Is sex work always a case of sexual violence?

Scholar Dorothea Hillhorst, responding to IRIN's recent #MeToo column, argues that transactional sex, very common in crisis settings, can be a way to survive, a "livelihood", and humanitarian agencies need to rethink how they look at it. Sex work may be triggered by poverty and distress, and is often violent, exploitative, and risky, Hillhorst acknowledges – but it can also be "consensual yet transactional". For example, it could stem from "the desire to advance in education or careers", she writes in a blog posting, drawing on her research in Congo. Humanitarian agencies should start "respecting the agency of people engaging in transactional sex and [consider] offering protection and services", she concludes.

(TOP PHOTO: ICRC weapon contamination experts conduct chemical decontamination trainings in health facilities. CREDIT: Ibrahim Sherkhan/ICRC)