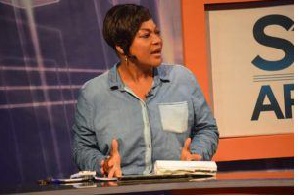 Gender, Children and Social Protection Minister, Otiko Afisa Djaba, has vowed to "seriously" take up the matter of employee abuse at Marwako Fast Food Limited.
According to her, human rights violations in the country can no longer be tolerated after 60 years of independence, hence her resolve to meet the management of the eatery, the victim, as well as other foreign-owned companies to impress upon them to respect the rights of their employees.

The Minister's comment comes on the back of a recent abuse of kitchen staffer Evelyn Boakye at the Abelenkpe branch of Marwako Fast Food Limited. Evelyn's face was dipped into pepper paste by her Lebanese supervisor Jihad Chaaban.

This inhumane treatment has attracted widespread criticism, especially on social media, leading to the creation of a hashtag #boycottMarwako.
Speaking to Chief Jerry Forson on Ghana Yensom on Accra100.5FM on Tuesday 7 March, Ms Djaba said: "After 60 years of independence, nobody's right should be infringed upon and as the Minster for Gender, Children and Social Protection, that message is at the core of our vision and what we have to do for Ghanaians and so I'm taking this matter seriously.

"I will meet the management of Marwako, I'll meet the victim and then we will have discussion with the Ministry of Employment and TUC and other organisations that are owned by foreigners and even Ghanaian employers. We must respect each other; I think that is at the bottom of what is going on. It is the lack of respect, we need to respect our employees because we cannot do what they do," she added.

Meanwhile, management of the restaurant has since suspended the supervisor Jihad Chaaban until police conclude investigations into the matter.