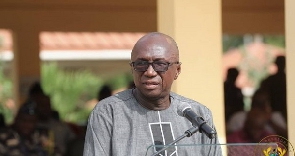 In 2018, there were reports of four missing girls in the Western Region between the months of July to December.
The victims are Ruth Abakah, Priscilla Kuranchie, Ruth Love Quayson, and Priscilla Blessing Bentum.

Miss Abakah went missing on July 29, 2018. The second victim, Miss Priscilla Bentum went missing August 15, 2018; on December 4, 2018, Ruth Love Quayson also went missing. The disappearance of the fourth victim, Priscilla Koranchie was on December 21, 2018.

The Police on December 22, 2018, picked up the main suspect, Samuel Udotek Wills, a Nigerian to assist with investigations.

After 8 days of his arrest, the people of Sekondi-Takoradi metropolis were shocked to hear the suspect had escaped from cells.

This development sparked a lot of controversy in the metropolis with residents hitting the streets to demand the rearrest of the suspect. They accused the police of having a hand in his escape.
The suspect after his rearrest mentioned that he was indeed assisted by a CID officer to escape.

It was after these incidences that the Ghana police service decided to give updates on how far they have gone in rescuing the kidnapped girls.

Below is the sequence of how the Ghana Police Service updated the families and the general public on the outcomes of the Kidnapped girls.