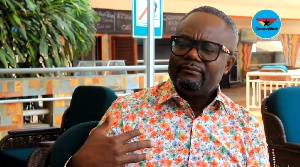 The Presidential candidate of the Liberal Party of Ghana (LPG), Kofi Akpaloo, has called on Ghanaians to ignore the National Democratic Congress (NDC) and its party Chairman over their claims that the Electoral Commission plans to rig the December 7, elections in favor of the ruling New Patriotic Party (NPP).
Addressing a press conference at the party headquarters at Kokomlemle, a suburb of Accra, Kofi Akpaloo, said the NDC's position on the planned new voters register amounts to warmongering.

He called on Ghanaians to support all efforts of the EC including the compilation of the new voters register which is aimed at guaranteeing a free, and fair election 2020.

His defense comes on the back of allegations by the NDC at a news conference on Thursday accusing the EC and NIA of conspiring to suppress votes in the strongholds of the party.

National Chairman of the party, Samuel Ofosu Ampofo alleged that the decision of the Electoral Commission to push for the Ghana Card, birth certificate and Passport as the primary documents required to register during the voters' registration exercise is part of a grand scheme to rig the 2020 elections in favour of the governing NPP.
According to him, the decision by the NIA to increase the number of registration centres in the Ashanti region but keep few in the strongholds of the NDC is part of the voter suppression agenda.

AIRBUS SCANDAL

Kofi Akpaloo also raised issues with the ongoing investigations of the Special Prosecutor (SP) into the controversial Airbus scandal in Ghana.

He argued that very little has been heard about the ongoing investigations and it is about time that the office of the Special Prosecutor brought the people of Ghana up to speed on all that it has gathered so far on the involvement of Ghanaian officials in the scandal.