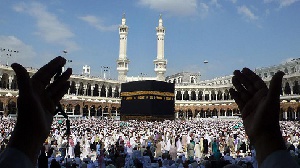 Once again, the government of Ghana is spending our limited resources for Christian pilgrims to Israel like it always sponsors Muslim pilgrims to Mecca. Are such expenses a top priority for the country?
According to the Minister of Chieftaincy and Religious Affairs, Samuel Kofi Dzamesi, "Let me assure you that we intend to have an eventful pilgrimage. Prayer at the Western Wall of the Temple of Jerusalem, visit to the Nativity

Church of Bethlehem, renewal of baptismal promises in the river Jordan, ceremony of the awarding of Jerusalem Pilgrim Certificate.

In view of this, the ministry has set up two sub committees which are the Planning and Screening Committees which are composed of members of recognized Christian bodies.

Once the initial programme is successful in accordance with the key indicators, the Republic of Ghana shall be given a quota for subsequent pilgrimages. It is necessary that we secure an understanding of the quotas. The initial and agreed fee for the pilgrimage per person is $2,700."

First, Ghana depends mostly on external loans, aids, grants, and others to fund its economy. Are the countries who are giving Ghana these loans also sponsoring Muslim and Christian pilgrims to Mecca and Israel? Second, Muslims and Christians are making millions of cedis every weekend in addition to the hospitals, schools, and other social amenities they own in the country.
Can't they use their profits to sponsor their pilgrims? Third, Ghana is a secular nation which should not necessarily engage in this. This will pave the way for every group to also come for sponsorship which you may not be able to deny them. ATR, Atheists, and other groups may soon seek support for their events.

Can the government sponsor all group activities?

I think both the current and past governments are setting a dangerous precedent for the next generations. You are paving the way for the country to spend on something which we are not supposed to do. It is a fact that Christians and Muslims dominate the country, so every smart politician will make a move to appease this population. But you better be a cautious commander than a rush one here.

This is not the best way to appease Muslims and Christians in Ghana because it comes at a cost against our scarce resources. The government should find another way to please Muslims and Christians than this wasted routine sponsoring of pilgrims to Isreal and Mecca.

To some Christians and Muslims who are happy because the government is supporting you on your pilgrim journey, just put things into perspective and see if this is the right choice for the country? No one is against you if you are a Christian or a Muslim and you want to go to Israel or Mecca. But if you want to go to your holy lands, you should have the capacity to do it yourself. The government does not have to use the limited resources on such journeys.