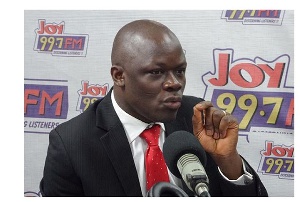 Here is a brief take for a small but important constitutional lesson. During her vetting last week, now Chief Justice Sophia Akuffo told the MPs a simple truth that of the three arms of government it is only the judiciary that Ghana can't do without.
In fact, successful coup makers were always quick to announce the dissolution of parliament. Yes, they ruled without a parliament but never without the courts or some form of the judiciary. It is no surprise then that courts in established democracies can unmake even governments. It is exciting that individual citizens and pressure groups are using the courts to compel public officers to do the jobs they are paid by citizens to do.

It does seem that's just what has to be done a lot more to get Ghana working, right? Occupy Ghana just got the Supreme Court to literally wake the Auditor General from a long slumber into action to retrieve some five billion Cedis stolen by public officials over a long period. The Supreme Court just ordered strict compliance with the law by presidents seeking to bind the nation in international agreements.

This may be a most effective way to compel officers of the state to do right by the tax-payer because of the implications of disobeying the orders of the Supreme Court. Let's together read article 2 clauses 1-5 for the simple reason and lesson for my take today:

(1) A person who alleges that -

(a) an enactment or anything contained in or done under the authority of that or any other enactment; or
(b) any act or omission of any person;

is inconsistent with, or is in contravention of a provision of this Constitution, may bring an action in the Supreme Court for a declaration to that effect.

(2) The Supreme Court shall, for the purposes of a declaration under clause (1) of this article, make such orders and give such directions as it may consider appropriate for giving effect, or enabling effect to be given, to the declaration so made.

(3) Any person or group of persons of whom an order or direction is addressed under clause (2) of this article by the Supreme Court, shall duly obey and carry out the terms of the order or direction.

(4) Failure to obey or carry out the terms of an order or direction made or given under clause (2) of this article constitutes a high crime under this Constitution and shall, in the case of the President or the Vice-President, constitute a ground for removal from office under this Constitution.
(5) A person convicted of a high crime under clause (4) of this article shall -

(a) be liable to imprisonment not exceeding ten years without the option of a fine; and

(b) not be eligible for election, or for appointment, to any public office for ten years beginning with the date of the expiration of the term of imprisonment.

Disobeying the Supreme Court is an unforgivable sin. Who is suing next to compel quality performance and service delivery by state entities and officials who are refusing to do what the tax-payer pays them each month to do?