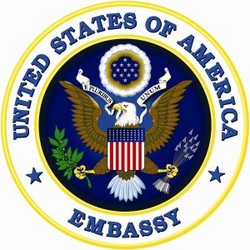 For the past few days, the United States Embassy in Ghana has said Ghanaian leaders should make a personal appearance at the Embassy for US visas for private trips and pleasure.
According to US Ambassador Robert P. Jackson, "As for the protocol, normally if you are applying for official travel there is no personal appearance required so there is no reason for your parliamentary protocol officer to come to the Embassy whatever.

The normal channel will be for him to pass the visas and passport to the Ministry of Foreign Affairs and Regional Integration, and their protocol people will be permitted to come to the Embassy, and we will do everything we can to process those visas within 48 hours of receipt. If you are travelling for tourism or business that is not related to government business, you will be required to make a personal appearance even with former Presidents. There are no exceptions."

There are issues to be considered here. First, the United States is not the only country doing this. When some members of Parliament from Ghana were allegedly engaged in visa fraud to the UK, the British High Commissioner said

"MPs wishing to make private visits to the UK or to be accompanied on official visits by non-official relatives must apply online and through our Visa Application Centre at the Movenpick Hotel like any other applicant."

Honestly, visa fraud is real, and many Ghanaians are a witness to this. I do not have a problem if this is the sole reason why UK and US are asking government officials to queue for private trip visas. Ghana can also ask US and UK leaders to join the queue in our Embassies if they want to come to Ghan for private travel. It should not be difficult for Ghana to do this if you see them doing visa fraud.
Second, we know America will always respond in kind if you go contrary to their foreign policy. And if we put time into consideration when the US Ambassador announced this visa issue, I am not far from right to say America is responding to Ghana Supreme Court verdict that says it was unconstitutional to admit the two Guantanamo prisoners in Ghana.

Recently, the US Embassy has become a major topic in Ghana. We discovered they had not paid their electricity bill for two years though they claim they made contact with the Electricity Company of Ghana (ECG) to pay their bills. How on earth will the ECG not go and get their money when you contact them? Even the ECG has been chasing ordinary people for no paying light bills, so it makes no sense if they leave the bigger bill behind and go for the smaller ones. I have doubted this claim from the onset.

The way some visa applicants are treated at the Embassy is not fair. First, if you are denied a visa to America, you must regain a portion of your money. The law that permits the Embassy to take applicants money when they are denied visa need to be reviewed. Again, the Embassy has to expand their space to accommodate numerous people who go there for a visa. The place looks overcrowded, and people will be standing in the sun, no chairs or place to relax. Furthermore, the rate at which the US Embassy denies people visa these days is alarming. If you count ten people, who entered the Embassy withing two to three hours, almost nine of them were denied a visa, and sometimes the reasons they give are not convincing.

I see many Ghanaians are not happy with the US Embassy, but they are scared to say something because they fear of being denied a visa in future. You have the right to express your dissatisfaction with their services, and there is no way it will be used against you at the Embassy. At least they are professionals at the Embassy, so they have to go by facts presented to them and not your opinions you shared sometimes ago. Feel free to tell them your dissatisfaction.

The US Embassy is becoming a major topic recently in Ghana, and in most cases, it is very controversial. This is not the US Embassy we used to know. Things are changing at the disadvantage of Ghanaians.