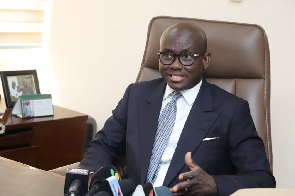 Ghana's attorney general, Godfred Dame, has misused the legal system for far too long to demand an efficient justice system. Since Nana Akufo Addo named Godfred Dame Ghana's Minister of Justice and Attorney General, the country has experienced its worst outburst of crime, abuse of authority, and denial of justice to political adversaries.
The Attorney General's sudden interest in a strong judicial system in Ghana was shocking. Since the law applies to everyone, including the impoverished, I assumed that freedom and justice were for every Ghanaian but it wasn't until Godfred Dame was named attorney general that I understood that justice only benefits the president or the wealthy NPP politicians. Like Chief Justice Kwasi Anin-Yeboah, Godfred Dame has terribly and miserably let down ordinary Ghanaians.

Due to Godfred Dame's mediocre work, Ghana, one of the most tranquil nations in West Africa, has descended into anarchy, fostering crime and lawlessness all over the place simply because Akufo Addo is in charge. After the Attorney-General recognized the depth of the harm his partial ruling had caused the nation, it appears that the call for an effective judiciary in Ghana has become necessary.

Godfred Dame stated, "a judicial system that maintained all components of the rule of law and promised a prompt and effective settlement of disputes would establish a commercial operating environment." However, this type of judge has never really cared about the subject matter of his current sermon.

The current political unrest and destabilized economy are the results of the president, Nana Akufo Addo, the finance minister, Ken Ofori-Atta, the attorney general, Godfred Dame, and the chief justice, Kwasi Anin-Yeboah, working under the influence of bribes rather than for the welfare of common people.

Why is Godfred Yeboah Dame, the nation's minister of justice and attorney general, now advocating for a just, trustworthy, and effective justice system? As you may remember, a US investigation from April of this year confirmed that "Ghana's judiciary is prone to the unlawful influence, corruption, and the receipt of bribes by officials."
The delivery of a specific envelope containing money for services or the transfer of property is simply two ways that corruption among the Supreme Court's judges may appear. It may also take non-financial forms. A corrupt judge can make a prejudiced judgment directly from the Attorney General's office after accepting a bribe. As a result of his negative deeds becoming public, Godfred Dame probably feels pressure now.

"Business had been linked to serious human rights breaches on the African continent for many years. As a result, the significance of a national baseline assessment study on the interaction between business and human rights could not be overemphasized," says Godfred Dame. However, ordinary Ghanaians and political rivals are now the targets of the same brutality and flagrant human rights violations.

Godfred Dame has tolerated and supported corruption in Akufo Addo's government, so it's not even a source of embarrassment for the NPP government to include politicians seriously involved in corruption scandals in the government. As Attorney General, one of his important roles is to fight against corruption affecting the vulnerable in the country but he has failed to do that.

Someone like Godfred Dame would never hold the position of justice minister in any respectable nation since his professional career has been destroyed by corruption, leading him to accept wrongdoing as the norm inside the NPP government. I fervently hope that whoever succeeds Akufo Addo as president would quickly remove the Attorney-General from his position.