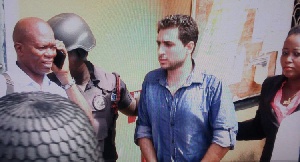 Lawyers for the Abelemkpe Branch Manager of Marwako, Jihad Chaaban, are skeptical about the substance the man is accused of dipping the face of Evelyn Boakye, an employee of the facility, into a couple of weeks ago.
In the view of Augustine Asafo Adjei, counsel for Chaaban, the substance Evelyn's face was allegedly dipped into – for which the accused person has been dragged before the Abeka District Court – was a "sauce" but not raw pepper.

He said the material, being a mixture of garlic, pepper, onions, ginger and tomatoes cannot be described as pepper.

For hours of cross-examination which was bedeviled by a lot of objections from the court and the prosecution, led by Chief Inspector H.A. Hanson, the lawyer was emphatic that the content in the blender as at the time of the incident was not pepper.

Augustine claimed that it's never the practice of the eatery to blend the said ingredients together, adding, "What you were blending were large slices of onions."

But Evelyn denied the claims of the lawyer, insisting that all the said ingredients were blended together.
She said the accused dipped her face into the pepper, contrary to the claims of the lawyer that looking at the blender, it was impossible for her face to enter its flask.

Further cross-examination of Jihad, who is before the court for assault, continues tomorrow.

The accused, 26, is reported to have dipped the head of Evelyn into blended pepper on February 26, 2017.

According to Chief Inspector H.A. Hanson, the accused offensively conducted himself when he angrily called the complainant a "prostitute."

Jihad is facing an additional charge of intentionally and unlawfully causing harm to Evelyn.