Opinions Sat, 28 May 2016
His Lordship Justice Dotse, one of the most respected Justices of the Supreme Court, did nothing more than explain a ruling that the panel of Judges on which he sat had passed in the Abu Ramadan & Evans Nimako case versus the EC.
The ruling, amongst other things, ordered the EC to delete the names of four million people who had obtained voter IDs using their NHIs cards, which was deemed unconstitutional by all means. Lo and behold, he suddenly developed haters and ill-wishers. It would seem that under the vexatious administration of the NDC, truth is a nemesis that is not encouraged.
The ineffably unfashionable, nauseatingly unattractive Lawyer, Amaliba, mounted an attack, ostensibly, by a discreet order from the NDC, which sought to look good by turning around to debunk it. The opinion of many-a-Ghana is that Amaliba is an "akwan ky3n" (roadside) lawyer, albeit maladroit and unwise, and poorly versed in the legal profession, too.
Justice Dotse was immediately branded as NPP, forgetting that on the 29th of August 2013, he was one of those who voted in favour of John Dramani Mahama to retain the Presidency; an error presidency, which went down in history as a result of the dirtiest elections in Ghana ever, rigged via an innovative Israeli evil machination.
That notwithstanding, IGP Kudalor, who is afflicted with the "North-Korea gagging y3nte obiaa syndrome", must rise up to the occasion and arrest those who made disparaging comments about Justice Dotse. The BNI must invite the few muscle-flexing scamps who openly expressed suspicious malice, like Baba Jamal, and lock them up in the dungeons.
But these security apparatuses will not dare do that; will they? The BNI fake folks are chicken that go after worms and escape snakes.
I was horrified to see a whatsapp clip attributed to Baba Jamal, explicitly, stating that "Justice Dotse must be dealt with forcefully". My question to Baba Jamal is, 'Do you want to kill Justice Dotse like your predecessors did to three justices during the JJ Rawlings PNDC rule in 1982?" My worry is derived from the photo of Baba Jamal's whatsapp chat as shown below: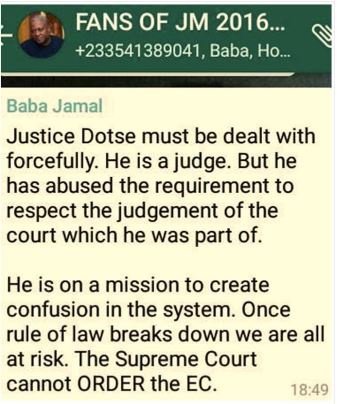 Justice Dotse must take this imbecile criminal, Baba Jamal, on. He has been all over bullying people and coercing poor citizens. If he has not fostered chaos already, he is certainly festering the wounds of the nation that have been inflicted by his murderous party, the NDC.