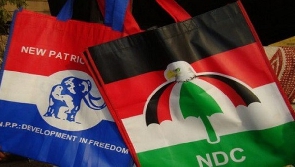 It is normal for politics to permeate topical issues in every country because, the very fact that the distribution and allocation of resources are done by political actors makes it impracticable to divorce discussions of certain important issues from politics which is why in the view of Harold Lasswell, politics is who gets what, when and how.
The point that must sink respectfully in the minds of our political actors especially those in power and for that matter exercise control over "who gets what, when, and how" in respect of development infrastructures like roads, hospitals, sea defence and a host of others is that some needs are urgent without which lives of our own citizens come under severe threat and one of such needs, at the moment, is the Keta Sea Defence.

Understandably, if political actors who have had the chance to lead this country but failed to construct it criticize as if they did it makes it very irritating but governance is a continuum and if care is not taken, the political tussle between the two major parties could shift the attention from the solution to this very precarious problem and affirm the belief of many that political power is what is sought after by politicians for their own aggrandizement but not solving problems affecting the generality of people.

Therefore, what this government needs to appreciate is that the blame game at this point is needless because the lives and daily activities of people are being affected so NPP-NDC politicking is a symbolism of nausea for want of a better phrase.
The government must show a great deal of empathy, first and foremost, by presenting relief items and provide a temporary shelter for the displaced residents and subsequently provide a clear cut plan which ultimately constructs a well-fortified defence against the tidal wave in Keta to bring finality to this perennial catastrophe.

We need to show a great deal of egalitarianism as well in matters affecting the lives of people and cut the NPP-NDC politicking which adds no value to the suffering Ghanaians including my good self.

For we must not fester the notion that "those who feel it know it" as in the words of the legendary Bob Marley. That is not egalitarian enough!