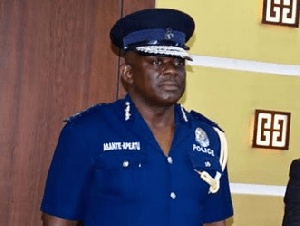 The Minority Leader Haruna Iddrisu has hinted of summoning the Inspector General of Police (IGP) Mr David Asante-Apeatu before Parliament to brief the house on the steps taken by the police service to rescue the three kidnapped Takoradi girls when the house resumes sitting on 28 May.
The Criminal Investigations Department (CID) boss COP Maame Yaa Tiwaah Addo Danquah at a press conference said the police knew the whereabout of the missing girls but the girls have still not been rescued.

The families of the girls planned marching to the CID headquarters on 2 May 2019 to demand the whereabouts of the girls from Ms Danquah but that was suspended after the Western Regional Police Commander; DCOP Vincent Redeemer Dzedzo led a police delegation to introduce liaison officers to the families.

Speaking at the last emergency sitting of the house on Friday, 3 May 2019, Mr Iddrisu said the issue of the kidnapped girls should be a matter of concern to all Ghanaians.

The Tamale South lawmaker said: "Mr Speaker, the matter of the kidnapped girls needs a national attention and I think that Mr Speaker, next time we come we'll file a motion to compel the Inspector General of Police through the Minister of Interior to report to this house what steps beyond the radio interviews we've heard they are taking to secure those children."

The missing girls are 18-year-old Priscilla Mantebea Koranchie, last seen on 21 December 2018; 21-year-old Priscilla Blessing Bentum, last seen on 17 August 2018; and 18-year-old Ruth Love Quayson, last seen on 4 December 2018.
The man suspected to be behind the kidnappings, Samuel Udoetuk-Wills, who broke cell and escaped from the custody of the Takoradi Metropolitan Police Command on 30 December 2018, was re-arrested by the police.

Udoetuk-Wills was recaptured in the wee hours of Friday, 4 January 2019, by three policemen in an abandoned building in the bush at Kansawurodu, near Takoradi.

He has been sentenced by the Takoradi Market Circle Court to 18 months in jail for escaping lawful custody.