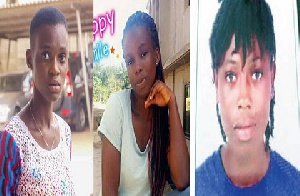 Distressed parents and relatives of Priscilla Mantebea Koranchie, a 15-year-old girl believed to be one of the people to have been kidnapped in Sekondi-Takoradi, have appealed to Ghanaians to help them trace their daughter.
The victim, a first-year student of Sekondi College in the Western Region, was said to have disappeared on December 21 last year around Nkroful Junction, near Takoradi.

The appeal comes on the back of increase in kidnapping of people, especially young girls in Sekondi-Takoradi, over the last few months.

DAILY GUIDE has gathered that two other victims, Priscilla Blessing Bentum, 21, and Ruth Love Quayson, 18, who were kidnapped on August 18 and December 4, 2018, respectively, have not been found.

Francis Bentum, father of Priscilla Bentum, in an interview with the paper, indicated that he has so far paid a total amount of GH¢4,500 to the suspected kidnappers.

He mentioned that the kidnappers called him on phone and demanded the money to release the girl but to no avail.
Mr. Bentum, however, indicated that the alleged kidnappers stopped demanding money from him immediately a Nigerian suspected to be a member of the syndicate was arrested at Kansoworodo, near Takoradi.

Awuradjoa Quayson, a sister to another missing girl, Ruth Love Quayson, stressed that the disappearance of the girl was adversely affecting her family.

DAILY GUIDE's sources say a 21-year-old lady at Nkroful Junction in the Sekondi-Takoradi Metropolis was also kidnapped in August last year.

This happened two days after another girl, who was kidnapped on August 15, 2018, was found about hundred metres from her house at New Site, near Takoradi.

The victim was abandoned the next day at dawn close to her house.
Unfortunately, the 16-year-old girl was dumb when she was found and could only communicate through writing and texting on her phone.

According to the father, "The alleged kidnapper demanded a ransom of GH¢4,000 via Tigo Mobile Money before they would release my daughter but the mother and I could only raise GH¢2,500 from a loan which has since been sent to the kidnappers but our daughter has not been released."

Relatives Demonstrate

Relatives of the kidnapped girls recently hit the streets of Sekondi-Takoradi to force authorities to fast-track investigations to bring back the girls.

The aggrieved parents were joined in the demonstration by residents of the metropolis who revealed that the recent rise in kidnapping of girls in the area was worrying.
Suspect Arrested

The Western Regional Police Command has so far arrested a 28-year-old Nigerian, Samuel Udoetuk-Wills, in connection with the kidnapping of girls in the area.

He was arrested at his hideout in an uncompleted building at Kansaworado in the Sekondi-Takoradi Metropolis.

Samuel managed to escape from police custody but was later re-arrested in an uncompleted building located between Kansaworodo and Nkroful in Sekondi-Takoradi.

After his arrest, the suspect was first hauled before court on Wednesday, January 9, 2019, and charged with escaping from lawful custody, causing damage and resisting arrest.
He pleaded not guilty to all the three charges and the court, presided over by Michael Ampadu, remanded him to reappear on January 16, 2019.

During the trial at the Takoradi Magistrate Court, police presented a scarf and a dress belonging to 15-year-old Priscilla Koranchie, which were found at his hideout as proof that he was neck-deep in the kidnappings.