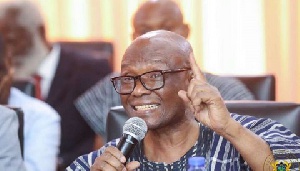 The Convention People's Party (CPP) has described the death of former UN Secretary General, Kofi Annan as a "big blow" to Ghana and the world.
According to the party, Kofi Annan's life and work on peace and justice positively impacted the world and individuals.

The Chairman of the party, Professor Edmund Delle, said: "Globally we have lost a great, wonderful man of peace and principles, whose works transformed and contributed to global peace."

"The leadership of Mr. Annan as the UN Secretary-General has raised the profile of the global body, created numerous platforms for peace and deepening of democratic pillars across the globe," he added.

Prof. Delle, on behalf of the CPP, conveyed heartfelt condolences to the family and people of Ghana, adding "may his death be marked with peace and a sense of togetherness ".

The CPP Chairman said the late Annan had an enduring legacy which all must be proud of.
"Kofi was a man of peace, who never gave up his identity as a Ghanaian and African. We must project our identity across the globe. May his soul rest in peace."

Born on April 08, 1938 in Kumasi, he died at the age 80.

Adored by all as a true national hero in Ghana, news of his passing has brought enormous pain and grief to many.

He died in the early hours of Saturday in the Swiss capital, Berne, after a short illness.

Mr. Annan served as the seventh Secretary-General of the United Nations from January 1997 to December 2006.
As the Secretary-General, Annan reformed the UN bureaucracy; worked to combat HIV, especially in Africa; and launched the UN Global Compact.

After leaving the UN, he founded the Kofi Annan Foundation in 2007 to work on international development.

Meanwhile, President Nana Addo Dankwa Akufo-Addo has directed that Ghana's national flag should fly at half-mast, beginning Monday, August 20, for one week in honor of the late Kofi Annan.