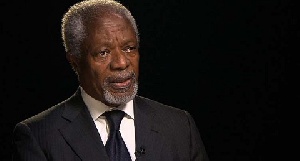 The Annan family have confirmed 13 September 2018 for the state burial and funeral of the late former Secretary-General of the United Nations (UN) Kofi Annan.
"The Kofi Annan Foundation can now confirm that @KofiAnnan will receive a state funeral and burial in Ghana on 13 September, with memorial services to follow in New York City and Geneva at later dates", the family said in a tweet.

President Nana Addo Dankwa Akufo-Addo proposed the date when the family of the late UN Chief called on him at the Jubilee House in Accra on Friday, 24 August 2018.

The president assured the family that the state will foot the full bill of the funeral and burial.
Touching on the place of burial, Nana Akufo-Addo said: "Burma Camp has created a new cemetery and there is a portion that has been allocated for VIPs; civilian VIPs and I think it will be the most appropriate place to lay him to rest… That will be the arrangement of the state. This is a state funeral, so, the responsibility for the arrangements are that of the Ghanaian state. Your bit is to mourn, but you will not have any of the financial burdens involved in organising such a thing; that will be borne by the state of Ghana."