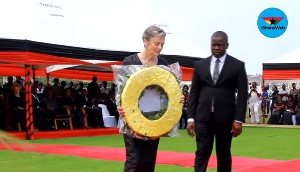 The rigid Ghanaian tradition of widowhood and its demands would not pity the mourning Nane Maria Annan, wife of the late United Nations Secretary General, James Kofi Annan, when she sat for almost a whole day on the second day of receiving mourners at the laying in state of her husband.
Maria, who at a point looked exhausted and tired, could not take a breather due to her role as the widow, who is expected to sit until the end of the ceremony.

Nane, who was born in October 1944, is a Swedish lawyer and an artiste from Stockholm, Sweden, must be alien to Ghanaian culture.

Nane, who was married to Kofi for over 30 years, was accompanied by her three children, Kojo Annan, Nina Cronstedt de Groot, and Ama Annan respectively.

As part of the widowhood rites of the Akans, the widow is not expected to shake hands during the function, and must sit and receive mourners until the end of the ceremony.

The widow is also not allowed to hold money during the period her husband has not been buried. The Chronicle, however, cannot tell whether Nane had money in her purse or not.

The widow also cannot travel for a year. Again, The Chronicle cannot tell whether Nane would be made to observe this particular requirement.
Other demands of the tradition have it that the widow is forced to wash herself with cold water three times a day, and is also expected to cry when she is in her late husband's house.

The widow is further prohibited from eating 'root crops' for a year.

Other demands include confining her to a room, shaving her head, having her wear a rope around her neck, and conducting a ritual bath.



It is, however, unclear whether the Swede widow would be made to go through these, or any of the rites, given her roots, and also the fact that the experience of being a widow to a Ghanaian might have not been so palatable, when she had to endure all the stress of sitting through a lengthy funeral ceremony and all that there is to it.

In Sweden, it normally takes one to two weeks from death until the funeral, with the possibility of burying the deceased as soon as possible after death.


Swedish law stipulates that the dead must be buried or cremated within one month of death.

Swedish funeral services are traditionally a small gathering of family and close friends of the deceased.



Funeral attendees bring flowers to place on the casket in remembrance of their loved ones. Close family members wear white ties and sing songs during the service to express feelings of grief and love.